Home » Food
Crowd-Grown Feast: A world first event set to satisfy.
Submitted by Charlotte on February 25, 2014 – 9:13 am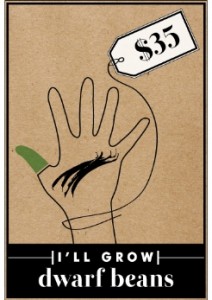 MEDIA RELEASE
Tuesday 25 February 2014
Crowd-Grown Feast: A world first event set to satisfy.
The world's first 'Crowd-Grown Feast' is in the ground, with over 40 urban gardeners growing their own food for a dinner with a difference.
On Friday 11 April inside the Silos at Wynyard Quarter, 100 growers will gather for a unique dining experience, eating produce they have grown here in Auckland.
Held in collaboration with Urban Pantry and The Purposive Collective, the Crowd-Grown Feast will see 100 people grow an ingredient from the 9 course menu designed by POPdining.
The organisers aim to bring a local context to food growing, by transforming people's home-grown produce into a fine dining experience.
"The Crowd-Grown Feast is going to be stunning. The chefs will cook the dishes in view of the diners, set to live music inside the Silos, a rarely-accessed space," says experience designer Chloe Waretini of The Purposive Collective.
More than 40 growers have already signed up for the Crowd-Grown Feast and planted their crops, ranging from leeks to capsicums.
Emily Harris of Urban Pantry says people are excited about the Crowd-Grown Feast, because it's a new type of collaborative social experience which shows that sustainable living within the city is possible.
"It's is a great opportunity for those who are interested in growing their own food to connect with other growers in their community, without the level of commitment involved with joining a community garden or garden club," she says.
Those who wish to attend the event purchase a ticket to the meal, and receive a packet of seeds or a punnet of seedlings to grow. Growers sign up online, and can choose their ingredient based on the cost, skill level and the amount of space needed to grow it.
Growers are encouraged to share their experience via an online forum, set up on the OOOOBY website.
"We want to know how our growers are getting on – this way people can share knowledge and trouble-shoot any problems," says Ms Harris.
The day before the Feast, growers harvest their crop and deliver it to the chefs in exchange for a ticket. The following evening, the growers come together to share a fine dining experience, with the added satisfaction of knowing they have grown all of the produce on the menu.
Menu designer and chef Ben Barton of POPdining is no stranger to innovative dining events, having previously hosted a dinner for more than 50 people, using food rescued from supermarket skip bins.
"We've designed the Crowd-Grown Feast menu based on what grows well in Auckland over the summer, but we have to be ready to adapt it at the last minute depending on how crops turn out. We have a safety-net of locally sourced produce that we can use in the event of crop failure," he says.
The aim of the event is to bring people together, says Ms Waretini.
"We're really trying to encourage people to grow and share food, and we look forward to having the growers sit down and bond, enjoying a meal that is created using ingredients they have had a hand in growing themselves," she says.
Space is available for 60 more diners to sign up before the April 11 event.
People interested in being part of the Crowd-Grown Feast can sign up at www.crowdgrownfeast.com.
GD Star Rating
loading...
GD Star Rating
loading...
Tags: Gardening