Home » Events
Weed Dating brings romance to environmental action
Submitted by Charlotte on March 3, 2014 – 8:38 pm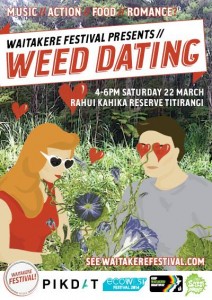 The Waitakere Festival is hosting an event for the EcoWest Festival bringing some romance to environmental action!
Join us and DJs from PIKDAT wrestling with weeds in one of the West's most beautiful reserves.
The low down:
Wrestle with weeds in the stunning Rahui Kahika Reserve to the amorous tunes of DJs from PIKDAT. Meet new friends and perhaps even spark a new romantic connection!
Picnic and refreshments provided for after the hard work and games are done.
Weed Dating is part of War on Weeds month run by Keep Waitakere Beautiful. Seewww.kwb.org.nz/war-on-weeds for info about where you can dispose of your weeds.  Read more.
GD Star Rating
loading...
GD Star Rating
loading...
Tags: weeds