Home » Arts
Art and environment the focus of confronting new exhibition and book
Submitted by Charlotte on March 13, 2014 – 10:04 am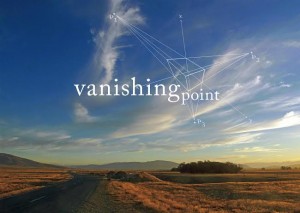 Art and environment the focus of confronting new exhibition and book
On March 29, Saffron Gallery of Art in Timaru will host the launch of Vanishing Point, a limited edition book which combines art and environmentalism to deliver a powerful new message. The book launch is accompanied by an exhibition of works by three prominent art practitioners.
Vanishing Point focuses on the use of art as a vehicle to explore the issue of maintaining environmental health, and the many subtle relationships humans have with nature as a whole. The inspiration for the project was the Mackenzie Basin and the motivation came from the exhibiting artists' concern about our environmental malaise.
Vanishing Point features the work of artists Bing Dawe (Canterbury), John F. Emery (Canterbury and the US), and photographer Keith Walter (Canterbury), giving voice to their concerns about the delicate environmental balance which exists in the Mackenzie Basin. Their work seeks to encourage a deeper understanding of the particular qualities of the landscape of the Mackenzie Basin – the interplay of light, colours and textures, and the unique geography, flora and fauna of this arid inland plateau.
Vanishing Point is about recognising the interconnectedness of our land and people, acknowledging that if we want to preserve the distinctive nature of the Mackenzie Country as we currently perceive it, then we must be extremely careful about the land-use changes we allow.
Vanishing Point author and publication curator Sarah Anderson said "As a natural optimist, I prefer the idea of doing something, as opposed to nothing, in the hope that some change for the better may occur as a result – hence my involvement with the book." With a deep seated concern for conservation and the implications of intensive land use on already stressed and fragile environments, she is honoured to be involved in this project alongside three such talented practitioners.
Anderson said that John Emery was one of the driving forces behind getting the project off the ground. Emery approached Anderson two years ago about curating an exhibition that looked at artist's responses to the Mackenzie Basin. Coincidentally, Emery was one of Anderson's lecturers during her first year at art school. Now, Emery's vision for the project has become not only a dynamic new exhibition, but a lavishly produced book featuring striking full-colour spreads over more than 50 pages.
Vanishing Point will be published locally as a limited edition softback – with an initial print run of just 100 copies – available for sale (RRP: $35.00) through Saffron Gallery.  The book was designed by artist and contributor John F. Emery, and will be launched on March 29 at Saffron Gallery of Art, 325 Pages Rd, Glentiti, Timaru, between 2pm and 7pm. The exhibition opens to the public at the same time and runs until April 17.
Saffron Gallery Director Rosemary Walden said "Hosting the book launch and exhibition fitted well with the ethos of the gallery, and helped it achieve its aims of endeavouring to provide genuine art from the heart, which told a story. When asked whether we would consider holding the launch and exhibition at Saffron Gallery, we welcomed the opportunity eagerly," Walden said.
Sarah Anderson was born in Christchurch and holds a Bachelor of Fine Arts in Sculpture and a Post Graduate Diploma in Art Curation, both from the University of Canterbury. Sarah is also involved in a number of exhibition, book and performance projects. She is particularly interested in the integration of the arts into the fabric of Christchurch as the city emerges from the devastation wrought by the earthquakes of recent years.
Bing Dawe was born in Oamaru and is a graduate of the University of Canterbury, School of Fine Arts. He has participated in numerous solo exhibitions including a major retrospective at The Robert McDougal Art Gallery in 1999. He is the recipient of many awards including the highly prestigious Wallace Art award. His work can be found in public and private collections both in New Zealand and overseas. Dawes reputation as an art educator is equally impressive and revolves primarily around his long standing position (since 1989) as Programme Coordinator of Bachelor of Design at the Christchurch Polytechnic. He has since stepped down from that position and now teaches sculpture part time in that same course.
SARAH ANDERSON AND BING DAWE ARE AVAILABLE FOR INTERVIEW/ADDITIONAL IMAGES AVAILABLE
ON REQUEST.
Media contact: Sarah Thornton, Thornton Communications, sarah.thornton@prcomms.com,
09 479 8763/021 753 744
GD Star Rating
loading...
GD Star Rating
loading...
Tags: Arts, Environment