Home » Club Happyzine, Featured
Win an argan, kiwifruit, jojoba exfoliator from Moreish
Submitted by Charlotte on July 5, 2015 – 6:55 pm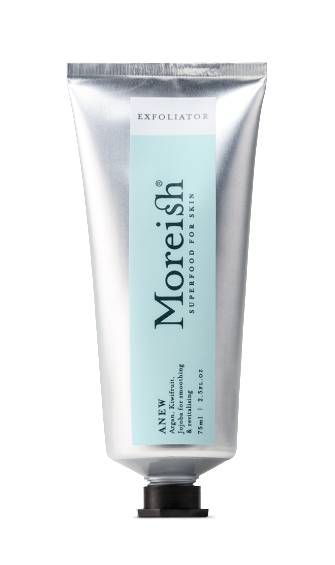 Join Club Happyzine this week and go in the draw to win one of two tubes of Anew Exfoliator, each valued at $20. 
Check out new: Anew Exfoliator
A nourishing exfoliator that gently buffs away impurities and dead skin, leaving it soft and radiant. Use once or twice weekly to reveal a brighter complexion that glows with good health! Made with Argan, Kiwifruit and Jojoba for smoothing and revitalising. 75ml RRP $20
Moreish Skincare is a range of luscious treats that your skin will love, bursting with natural ingredients that will have you glowing! It's the epitome of natural beauty, that is New Zealand made and hasn't been tested on animals.
Made with pure superfoods, Moreish is created with all good things, including 100% organic Argan Oil, Rosehip, New Zealand Avocado, Manuka Honey, Grape Seed, Kiwifruit and Olive Oil.
The range is intensely rich in vitamins and essential nutrients to hydrate, protect and restore your face and body without the use of harsh chemicals. It's the perfect way to nourish your skin from the outside in!
The delicious range of Moreish products are created from the most beautiful natural ingredients known to womankind, with no parabens, artificial colours or fragrances and no petroleum derived ingredients. It's no wonder it's called "Moreish" – your skin can't get enough of it!
Join Club Happyzine this week and go in weekly draws to win new and proven lush, natural products. 
GD Star Rating
loading...
GD Star Rating
loading...
Tags: club happyzine