Home » Environment, Featured
NZ record attempt provides exciting opportunity to clean up the environment
Submitted by Charlotte on February 26, 2016 – 4:00 am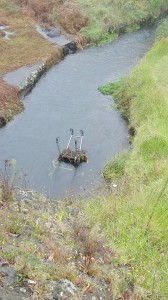 Volunteers across Auckland are wanted to participate in the 'Largest Single Environmental Clean Up in NZ', setting the first official record of its type in New Zealand.
Co-ordinated by the Manukau Beautification Charitable Trust (MBCT) in partnership with Auckland Council, Wai Care, and Sustainable Coastlines, the local and wider community will make history by attempting to set the official record for the 'Largest Single Environmental Clean Up in NZ'. The event on Saturday 30th April 2016 will focus on the Puhinui Stream to the foreshore, and expects to attract over 2,500 volunteers for the first official record attempt of its type in New Zealand.
Organisers are seeking volunteers from across Auckland including individuals, families, schools, churches, charities and businesses who want to make a difference to our waterways by taking action. With statistics highlighting an estimated eight million metric tonnes of plastics entering the world's oceans every year, and the majority of plastics coming from land-based sources, it's hoped the event will help change attitudes and behaviour. A recent study by the Ocean Conservancy and Commonwealth Scientific and Industrial Research Organisation (CSIRO) reveals the items most damaging to marine life are fishing gear, plastic bags, balloons, cigarette butts and bottle caps – many of which are often found discarded in our own local waterways.
The Puhinui Stream winds through and under Auckland's south-western suburbs. Together with its tributaries it represents 12 kilometers of integral waterways feeding directly into the Manukau Harbour. After 20 years of intensive urban development in the area, the stream's middle sections have become a dumping ground, with washing machines, fridges, couches, tyres, bikes and shopping trolleys often recovered during local clean up efforts.
Graeme Bakker, General Manager of MBCT, urges the local community and volunteers from further afield to come together to be part of NZ's environmental history.
"This is a unique opportunity for Aucklanders to give a few hours of their time to create a little piece of New Zealand environmental history," says Mr Bakker.
"Our record attempt differs to other localised clean ups because of its scale, unified approach of partner organisations and potential to effect change. We want to spread the message about the importance of keeping our streams and waterways clean. People often forget that our streams feed into the sea, so if we want to continue enjoying them for recreation and fresh sea food, we need to keep our own backyards clean," adds Mr Bakker.
Through the record attempt organisers want to foster a community interest in keeping the area of the Puhinui Stream to the foreshore clean, encouraging those who participate to return to the site regularly to ensure their hard work is preserved.
The stream and its waterways hold a special significance in Maori culture. Māoridom, and in particular Whanganui Iwi, have a phrase that says "Ko au te awa ko te awa ko au – I am the river and the river is me" – handed down from generation to generation because of the respect for the water and the river Whanganui.
Maintaining this view of the Puhinui Stream is the belief that the people must take responsibility for the stream to maintain its mauri-life force because in doing so the stream replenishes food resources with access to eels, puha, and watercress. At one time the stream was called the food basket of Tamapahore, a chief and ancestor of Manurewa, as the waterway fed the ancestors of the region.
Carrying on the responsibility of looking after the Puhinui Stream are the students of Te Whare Kura o Manurewa, who have recently carried out basic water quality and aquatic invertebrate monitoring tests on various sections of the stream. After comparing aquatic micro- and macro-invertebrates at two contrasting sites: one semi-rural and shaded site (Botanic Gardens), and; an urban site exposed to the sun (Kerrs Road), they found invertebrates at the shaded site only, and signs of unidentified contamination at the exposed site (see 'Notes to Editors' for further details).
Pre-registration for the event online at http://www.beautifulmanukau.org.nz/new-zealand-record-attempt.html is essential to ensure all volunteers are included in the final tally. Participants will meet at the Auckland Botanic Gardens' event site for official registration between 8-9am on Saturday 30th April, including a photo opportunity, safety briefing and distribution of gloves and bags. Groups will then be transported by buses to starting points along the stream and the foreshore, where litter will be collected throughout the morning. It's anticipated the clean up will be complete by 12.30pm, when volunteers will be transported back to the Botanic Gardens for celebrations with games, music, and refreshments. All litter will be collected, collated and weighed off-site, and participants will be notified about the volume of litter collected post-event.
The record attempt also paves the way for the local board's big event along the stream on Saturday 7th May, by ensuring the area is free of litter and looking pristine for the community get-together.
The record attempt is the latest initiative facilitated by the MBCT, which has a strong track-record in environmental education via its Eye on Nature event. This year's event has the theme 'Water for Life – Cool, Clear, Clean', where young people will be encouraged to take responsibility for New Zealand's waterways and its life forms. Taking place at the Auckland Botanic Gardens, 1,500 Year 5 and 6 students are set to attend the school-only days, 5-7th April, where they'll take part in a range of 'water' themed interactive educational games, arts and crafts. The event culminates in a free Family Day on Saturday 9th April which is open to the wider public and is expected to attract in excess of 8,000 visitors.
NZ Record Attempt: 'Largest Single Environmental Clean Up in NZ'
Where: Puhinui Stream to the foreshore, Southern Auckland.
When: Saturday 30th April 2016, 8am – 12.30pm, followed by entertainment and refreshments
Registrations: Pre-registration for the event is essential via http://www.beautifulmanukau.org.nz/new-zealand-record-attempt.html
For photo and interview opportunities, please contact:
Donna Davies, noodle PR m: 021 804487
GD Star Rating
loading...
GD Star Rating
loading...