Home » Environment, Featured
Back country Kiwi farmer encourages his peers to wisen up about biodiversity
Submitted by Charlotte on February 27, 2016 – 9:57 am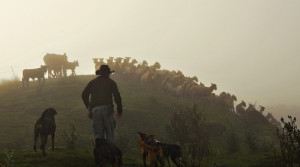 I like this piece from a Kiwi farmer sharing his wisdom about land management.  I know many passionate, eco-conscious farmers who are caring with great respect for their land, but still many aren't.  This kind of role modelling is a great way to show what's possible.  Charlotte, ed. 
New Zealand farmer reported that King country station owner Dan Steele says it really is time for farmers to change the way they think about land management.  He says it's time for backcountry New Zealand to wise up about conservation and to take responsibility for biodiversity and water quality.
Instead of intensifying diversity, he says.
GD Star Rating
loading...
GD Star Rating
loading...
Tags: farming, Sustainability