Home » Environment
Victoria University partners with Zealandia to focus on urban ecology
Submitted by Charlotte on June 1, 2016 – 4:00 am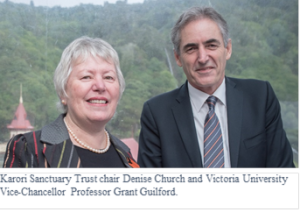 Zealandia signed a Memorandum of Understanding (MoU) with Victoria University of Wellington this morning in a ceremony attended by Wellington Mayor Celia Wade-Brown.
The agreement, signed by Denise Church, chair of Karori Sanctuary Trust, and Professor Grant Guilford, Vice-Chancellor of Victoria, formalises the ongoing collaboration between the two organisations and proposes plans to build a joint research centre with a focus on urban ecology.
Zealandia chief executive officer Paul Atkins says Zealandia and Victoria University have enjoyed a close working relationship for many years.
"This MoU strengthens our partnership and will provide a framework for working together on a long-term programme of research for the future."
"I'm looking forward to seeing the exciting research that will be developed and continue to benefit biodiversity in New Zealand," he says.
Professor Guilford says the partnership will support important work safeguarding the country's unique natural environment.
"Zealandia is a living laboratory for our staff and students, and we're proud to be able to contribute to such an important research facility. Its contribution to the study of urban ecology and other disciplines will have a ripple effect well beyond the city and bring together those who are passionate about urban ecology."
Mayor Celia Wade-Brown says the partnership "is a great example of Wellington's collaboration with research to help our biodiversity thrive in this natural capital".
For more information please contact Jolene Williams on 04-463 6385 or jolene.williams@vuw.ac.nz
GD Star Rating
loading...
GD Star Rating
loading...
Tags: urban ecology, wellington