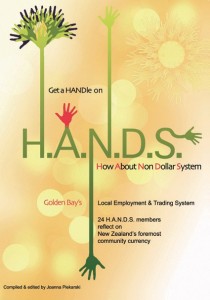 Get a HANDle on HANDS – How About Non Dollar System – Golden Bay's Local Employment and Trading System
Starting up an alternative currency in your community? It's a great idea, but will it fly? Perhaps so with some serious vision and commitment behind it. And the good news is that your chances of sustainable, long-term success just increased notably thanks to the new ebook 'Get a HANDle on HANDS – How About Non Dollar System – Golden Bay's Local Employment and Trading System' which was created by members of New Zealand's most successful complementary currency.
Contributed to by twenty-four authors, all members of HANDS (a word which, you will note, after twenty-three years is so established it's become a word in itself) the ebook is intended to be a guide to everything you might need to know about establishing and sustaining a robust Kiwi complementary currency.
And believe me, these guys would know. With a participation rate of around eight percent of the Golden Bay population (which is the highest in New Zealand), this system has developed into its third decade thanks to the inspiring commitment of a core group of people, many of whom contributed to this guide.
Editor Joanna Piekarski says she hopes the ebook will help people nationwide better understand and utilise their complementary currencies, while also offering insight to community groups wanting to start their own.
Says HANDS Committee Member Murray Rogers in the Forward of the ebook: "Golden Bay is located in the northwest corner of the South Island. Its relative isolation, natural beauty and many freethinkers continue to attract an eclectic mix of savvy, creative people."
And a savvy bunch they've proven themselves to be, repeatedly. Though it may sound like an easy stroll through a field of wild herbs, it's no small feat setting up a complementary currently that not only attracts participation, but develops into a strong, interconnected community. While the benefits of a complementary currency with the core aim of strengthening community are numerous, one obvious challenge is that the core group steering the project need to be highly committed, often only receiving 'satisfaction' for their time.
The ebook tackles some sticky issues. Listing chapters such as Understanding Zero, Secrets of HANDS Success, HANDS Standards of Value, HANDS Bookkeeping' for GST Registered Businesses, Free Membership for Community Groups, HANDS vs Banks, I Don't Want to Spend Any HANDS Because I Can't Seem to Earn, Beyond L.E.T.S money to revitalise the economy, and much more, this is a comprehensive guide to New Zealand's most crank'n little currency.
And every community is different, says Joanna Piekaski
"We encourage people to copy and share information from this ebook freely as we hope that it will be of help to other communities. But each area has its own specific needs and that's something you'll work out in your own way at your own pace. This is by no means the definitive recipe for a complementary currency. But we do hope it will help."

And in doing so, a rich, inclusive community develops.
Says HANDS member Rebecca Reider:
"When I log onto our community exchange website, I feel subtly rich. My list of HANDS transaction, whince I joined the ystem two years ago, brings a tickle of heart warmth to the cold glare of the computer screen. When I glance at the names of friends and acquaintences in Golden Bay whom I've been able to trade with, I can see that my richness in this system is not about what numerical amount hovers at the bottom line of my account. Instead a feeling of abundance and interconnection arises in knowing that I am in relation with so many valuable people around me."
To buy the ebook 'Get a HANDle on HANDS – How About Non Dollar System – Golden Bay's Local Employment and Trading System' from Happyzine for three New Zealand dollars, click on this link.
For more information about the ebook or HANDS contact Joanna Piekarski – 03 525 8448. Email: rojoanna@ihug.co.nz
GD Star Rating
loading...
GD Star Rating
loading...