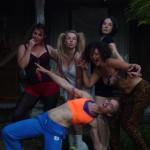 A Golden Bay spice girls dance group have vowed to break out their best moves if 70,000 people like a Kiwi good news site on facebook.
The group, made up of a mix of Golden Bay residents say they'll provide a surprise spice girl flashmob at one of Takaka's busy new year summer markets, suprising locals and tourists, providing the good news website Happyzine.co.nz reaches its facebook goal by December 31st.
Owner of Happyzine Charlotte Squire says she's honoured to have the support of the Golden Bay spicegirls, saying which ever style of dance they'll undertake will be "impressive" and "very glamerous."
Squire says she's on a mission to expand the reach of her "solutions focused" good news website to 100,000 Kiwis so she and a team of award winning writers can relaunch the daily news site January 1st 2015.
To like Happyzine on facebook go to www.facebook.com/happyzine.
GD Star Rating
loading...
GD Star Rating
loading...