Home » Uncategorized
Relaxing on the Interislander – I Am No Longer A TV Virgin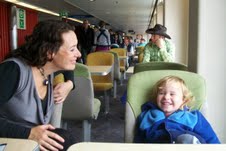 It's Monday the 25th of January and I'm on the Interislander Ferry feeling utterly relieved as I head back to the Shire (Nelson) after an exciting Television stint in the Capital. Oh yes, it's been all on since Friday when TVNZ called to invite me to go on T.V. I had to find clothes, accommodation, money, transport, help with my young son, stuff to say on Breakfast TV, remove facial hair, and generally become very brave.
I feel pretty chuffed to have taken the Interislander Ferry travel option because a) it costs half as much as flying and b) it's much nicer for the planet. Also, I'm lucky enough to have taken one of the best seats on the Ferry because I've got a gorgeous two year old with me in his push-chair, so we got to go on first, and take our pick.
I'm watching my son – Kahu – run around the ferry in a great state of excitement because there are fellow toddlers on this sailing, plus, there's an indoor playground and its crawling (literally) with potential playmates. So far, Kahu has has managed to dodge the efforts of a feisty little dummy-welding girl to 'borrow' his favorite truck, and and he's inspired at least a dozen small children to stop watching the Disney Channel and bark like a dog with him.
"Who started this?" asked one of the little people after a passionate round of barking.
"That girl, " said someone, pointing to my son.
I've chosen to go on the Picton to Wellington ferry for a number of reasons. Reason A overshadowed all other reasons initially. All the flights were booked out from Nelson to Wellington and I needed to get there, fast. Absolutely everything was taken. The Interislander was great for us because they have numerous sailings happening through the day and booking a ticket was nice and easy. So, onto Reason B (and this was a big one for me) – for those of us who leave our vehicle on the 'mainland', it costs half as much to travel via the Interislander Ferry, rather than fly. Now, as a parent, a busy running-a-business plus stay-at-home-Mum, money was an issue. I felt relief when I heard the price. Reason C was quite a discovery for me, do you know that the carbon footprint an Interislander journey is roughly one sixth of that of flying across the Cook Straight. Who would have known such a fact? Also, they've managed to reduce their fuel consumption by nearly five per cent since late last year.
I'm nearly across the Cook Straight now. The beautiful Marlborough Sounds are cocooning our journey inland, the sun's sparking off ocean. I've used this three hour journey to simply unwind. Thankfully the staff in the nearby Cafe were very understanding about my son's tendency to visit every ten minutes and trot out carrying various un-paid for food items. So all is well in my world. Next time I need to cross the straight, in the words of the 'Warratahs', I'll be cruising on the Interislander.
Thanks to the Interislander for sponsoring the Happyzine (Charlotte, Dave and Kahu) Team's  trip across the straight.
Book your Interislander Trip online today
GD Star Rating
loading...
GD Star Rating
loading...
Tags: dreams, good news, kids, personal sustainability, positive news