Home » Uncategorized
365 Days of Fun and Chillaxation As I Raise My Son and Grow My Good News Website – Blog#10
Submitted by Charlotte on April 25, 2010 – 10:37 pm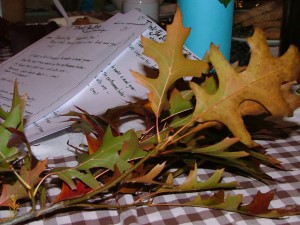 Tonight I attended the HANDS (Golden Bay's complementary currency system, see Rebecca's recent article here) Harvest Feast along with around 140 other people. I've got to be honest, I felt really emotional to be there, I'd been looking forward to it for months.  It was amazing to see so many old friends packed into one room all at once after years away.  HANDS is one of the draw cards of the Bay for me – it's a vehicle for strengthening community, it's grown up strong from a grass roots movement.
The core purpose of HANDS is to bring people together via trade (as opposed to other currency systems for example the NZ dollar system where the focus is on growth).
All I could do was sit there, with Kahu on my knee for the first hour and take it all in. So the people came to me and welcomed me back t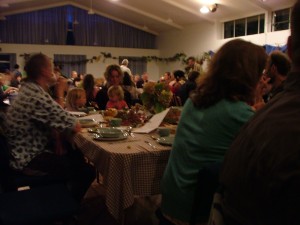 o the Bay and every body hugged every body and music was shared and children ran around wildly and a four course feast was served.
We're talking: spicy pumpkin and beetroot soups, baked root veggies, rice and egg, a wild pork stew, enormous salads, more veggie dishes and then for desert chocolate mousse and avocado ice cream.  Scrumptious! It was all locally produced food, and most of it was probably organic or at the very least grown naturally.
Top quality locally grown music was shared, and when I left with a tired boy holding my hand, the feast was still in full swing.  If you ever visit Golden Bay you have got to try and check out a HANDS market ( Stall holders are paid to be there – all in the name of community) or even better, attend a seasonal Feast.
Today's rating: 8/10
365 Days of Fun and Chillaxation (as I raise my gorgeous son and grow my good news website to a subscription base of 100,000 people).  The Low Down on this Blog.
Check out yesterday's blog.
GD Star Rating
loading...
GD Star Rating
loading...
Tags: dreams, Emotional sustainability, good news, HANDS, Happiness, motivational, optimism, positive news