Home » Uncategorized
365 Days of Fun and Chillaxation As I Raise My Son and Grow My Good News Website – Blog#14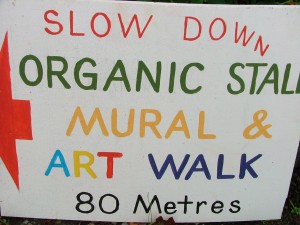 Right now, all I really want to talk about is food. I've got hot water boiling on the strove for rice vermicelli pasta, into which I'll soon throw some fish and basil and tomatoes and salt and pepper and tamari (to strengthen), and perhaps a little garlic (to energise). And my son and I shall lunch. And when I ask myself what specifically Charlotte wants to do – of all the things I could do here in the majestic natural environment and super-loving community of Golden Bay: it's bake. And perhaps cook meals. But mostly bake, I think. So very soon I'm heading once more to the organic shop and the supermarket to stock up on all the gluten free flours and special sugars (I'm going to experiment with 'rapadura' which is apparently far better for your teeth and body than the usual processed sugar), and for the dark chocolate chips, oil, eggs and anything else that seems worthy of a cooking session. And do you know what I'm going to do with my baking? I could tell you I'm going to sit here, this evening and scoff it all whilst watching the Simpsons movie for the 46th time (my son digs it), but I won't. Oh no. Because it's more the cooking part then the actual consumption of the baking that I'm relishing (pun unintended). So I'm going to head down to the local HANDS shop (which is open noon till six most days) and ask if they'd like to sell my goodies. I need to earn some HANDS, so that I can employ lovely, kind, fun people to play with my wondrous boy for the odd hour here and there. I'm interested to see what will tempt customers more: the oaty raisin cookies, or the decadent chocolaty ones.
Today's rating: 9/10
PS all the while I'm tapping away at my goal of drastically increasing our subscription base.  I was in a small community paper today, talking about Happyzine. I had a meeting with the two (gorgeous, loving) owners of the GB Weekly today too, to talk 'systems'.  Also I'm about to start contributing to www.voxy.co.nz with a regular good news round-up.  Oh there's more, so much more, I shall tell you about it in due course (what a dignified turn of phrase!).
365 Days of Fun and Chillaxation (as I raise my gorgeous son and grow my good news website to a subscription base of 100,000 people).  The Low Down on this Blog.
Check out yesterday's blog.
GD Star Rating
loading...
GD Star Rating
loading...
Tags: dreams, Emotional sustainability, good news, optimism