Home » Uncategorized
365 Days of Fun and Chillaxation As I Raise My Son and Grow My Good News Website – Blog#18
Submitted by Charlotte on May 3, 2010 – 7:25 pm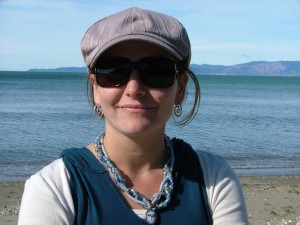 Come away with me.  Let's take off to the beach for the day.  My website can take care of itself.  We'll load up the car with kids, food, the dog, two wahine (kiwi females) and yourself and head for the hills, well actually the beach at the bottom of the hills: Milnethorpe Park.
Here we are and before we get out of the car, let me provide you with A Brief History of Milnethorpe Park: back in 1974 a group of optimistic people decided to turn this 400 acre coastal area into a lush green indigenous forest.  Come 1976 year of the Chinese fire  dragon (also the year I was born) the idealists had a rethink when they accepted just how run down the soils had become. So they turned to Australia's Eucalyptus and Acacia trees to get the ball rolling and provide cover for future kiwi native trees.  The Aussie trees settled in happily and are still thriving today.  Topsoil was finally able to build up and today thousands of native trees thrive here, beneath the canopy of the Aussie trees.  The locals have fallen in love with this place,  building all manner of tracks and sculptures and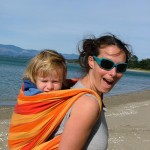 bridges.
So now you know a little of the history of this place, let's walk.  Give us a moment while we sling our kids onto our backs, now let's cross the concrete bridge, where the turquoise tide's only an inch away from wetting our toes.  Come this way, across the silver sand and the white pipi shells, brace yourself against that cold wind, but you'll relax in a moment once we get round the corner.  Can you feel the sun warming your back? It's warm and still here.  This beach stretches out, alongside miles of bush, all the way to Farewell Spit.  Our children are transfixed with the millions of different shells crunching beneath our feet.  Without realising it, we relax our bellies and walk a little slower.  We begin to amble, and finally drop down on the warm sand to sit and chat and just be for once.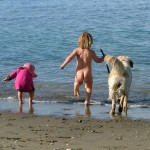 Immediately, the children, and the dog head for the sea.
When I was a little girl my father pointed towards the same blue horizon and told me on a clear day you can see Durville Island.  We see it now, clearly across the water.  When I was a little girl my father gave me my first raw pipi to eat and his eyes boggled when I ate it.  My son places white pipi shells on the sand castle we're building together.  This is a place where cell phones and lap tops never existed and never will.  This is a short-short-holiday, twenty minutes away from Takaka.  This is where to come to forget, for half an hour.
But time finds us and I'm so sorry but we have to turn back now.  I've got a phone-date with my lovely business coach.  She's helping me turn my dream for a good news website into a positive financial reality.  Come this way, we'll head back through the forest.
We drive home in a dream, struggling to recall that it's Monday.  And we step back into life, hair just a tiny bit wild, faces vaguely sun kissed.
Today's rating 9/10.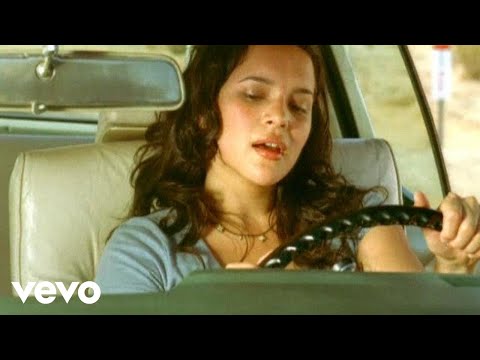 365 Days of Fun and Chillaxation (as I raise my gorgeous son and grow my good news website to a subscription base of 100,000 people).  The Low Down on this Blog.
Check out yesterday's blog.
GD Star Rating
loading...
GD Star Rating
loading...
Tags: dreams, Emotional sustainability, good news, Happiness, motivational, positive news