Home » Uncategorized
365 Days of Fun and Chillaxation As I Raise My Son and Grow My Good News Website – Blog#19
Submitted by Charlotte on May 4, 2010 – 9:38 pm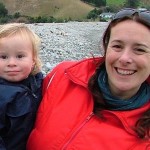 I've just finished reading the highly popular 'Eat, Pray, Love' by Elizabeth Gilbert.  Millions have enjoyed this book and for those who haven't found it yet – it's the story of a woman who came away from a marriage and spent four months in Italy eating, four months in India praying and four months in Bali finding a balance between god and pleasure.  It was perfect for me.  Amongst the many things that this book reminded me – I remembered to pray.  I remembered how important and powerful meditation is.  And I remembered how to connect with my god, my goddess, or what ever else you'd like to call that universal force-field of love that we're all a part of.
So today, while my mind was full of Happyzine, and of my son, and of my friend's needs.  I found the balance.  That precious balance.  I guess it's called being in the moment.  It's a useful place to dwell, to say the least.  It's all powerful, reassuring, love-full place.  It's where the good news appears.
Today's rating 9/10
365 Days of Fun and Chillaxation (as I raise my gorgeous son and grow my good news website to a subscription base of 100,000 people).  The Low Down on this Blog.
Check out yesterday's blog.
GD Star Rating
loading...
GD Star Rating
loading...
Tags: dreams, Emotional sustainability, good news, Happiness, optimism, positive news