Home » Uncategorized
365 Days of Fun and Chillaxation – Blog#22 – Persistence, Oh Glorious Persistence!
Submitted by Charlotte on May 7, 2010 – 3:09 pm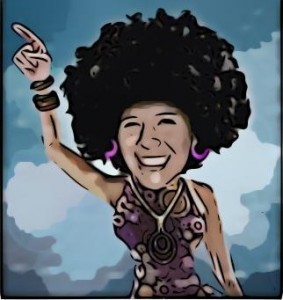 "Serena, even before I read the bit about myself you had me in tears! Thanks, I really appreciate the reminder to be brave and keep asking 'what's next'? This morning I woke up, as usual, bubbling with ideas about Happyzine thinking – patience patience it will all come, eventually, just keep going! And then, once again I remembered that the most important job of all, my core mission, is to give my son the most loving, strong start to life. I've got to make the most of him while he's still around! One day he'll be of enjoying his life and sharing his gifts with the world. Happyzine continues to grow, one step at a time, and the best moments for me business wise are when I feel at ease with where it is, right now.
with love,
Charlotte"
This was the response I wrote to business coach Serena Star Leonard this morning when I received her blog about 'Persistence'.  Serena mentioned my efforts with Happyzine at the end of an inspiring lament about her own journey – from cold calling on commission in the corporate world, to starting and failing her own businesses; to the point she's reached today as a highly sought after business coach and Internet business adviser.  I first found Serena on Twitter.com.  Even within the space of 120 digits she managed to grab my attention with her generous words – I think she was offering a free first session.  Serena was everything I was looking for in a business coach – incredibly positive, full of practical ideas that stretched and challenged me, and brimming with energy.  She eventually took me under her wing and has been touching base with me weekly for over a year now.  She's been (patiently, kindly, positively, lovingly, optimistically) there on the phone as I chase my son around, breast feed him, cuddle him etc, whilst continuing to chat about business.  You've gotta grab your moments when you're a Mum!  And she seems to 'get' this.  I cannot recommend Serena highly enough – she has not only taught me more than I can begin to list about online business development, but she's inspired me to reach for the very best in life, to dare to believe I deserve it.
So today, Happyzine has nearly 550 subscribers and one of the goals of this blog is to explore boosting that number towards my dream number of 100,000.  This will mean the dynamic of Happyzine shift from being completely supported by myself and a valuable team of contributors, to financially supporting myself and the team as we run it.  How on earth am I going to do this? Well, I've got a few plans 'up my sleeve'.  The first one is: I'm going to for help!  Tee hee.  More details coming soon.
Today's rating: 9/10
365 Days of Fun and Chillaxation (as I raise my gorgeous son and grow my good news website to a subscription base of 100,000 people).  The Low Down on this Blog.
Check out yesterday's blog.
GD Star Rating
loading...
GD Star Rating
loading...
365 Days of Fun and Chillaxation – Blog#22 - Persistence, Oh Glorious Persistence!

,
Tags: dreams, Emotional sustainability, good news, Happiness, motivational, optimism, positive news