Home » Uncategorized
365 Days of Fun and Chillaxation – Blog#23 – Zen Baby Zen
Submitted by Charlotte on May 8, 2010 – 3:41 pm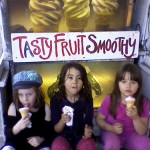 (While I raise my son and grow my good news website to a subscription base of 100,000)
Well, we're all a buzz here in the small city of Nelson, New Zealand as my family prepare for the long planned for and discussed event of the century: Gran's glorious funeral.  Speeches are being prepared, flowers gathered, outfits chosen, and the relatives are arriving.  All the while my newly dead Grandmother's body lies there looking solemn, white and still (which actually made me laugh because she was never solemn and still, rather she was a spirited, spunky, splendidly playful women who would leap into song at the lightest nudge and play the comb with great vigor if invited).
And what of my day?  I cleaned!  I cleaned with the focus of a surgeon, mind totally focused on each small area of the dust and debris that I cleared away. And I loved it.  I thought "Dare not interrupt me, for I am busy being in the moment and it's helping me feel my heart and be good with what I feel."  Over time many have used cleaning and clearing as a tool for calming anxiety but not me.  Nope.  Not until now.  I've always tended to sit around listlessly, you know – brooding, thinking, twirling my hair compulsively.  But no longer.  I've just taken up cleaning.  It's just such a productive and useful way to move with my emotions.  Some family members will be shocked.
I've practiced Zazen meditation and Seido Karate over the years and one teacher, whom I profusely admire because to me she is the epitome of 'calm and grace meeting fierce deathly skills', recently said to me "yes, be in the moment.  Just absorb each moment.  So when you do the dishes, they come out nice and sparkly." Today my dishes sparkle.  And my bench tops.  And the walls.  And various other surfaces.
"Do the small things of life with a relaxed awareness. When you are eating, eat totally -chew totally, taste totally, smell totally. Touch your bread, feel the texture. Smell the bread, smell the flavor. Chew it, let it dissolve into your being, and remain conscious–and you are meditating. And then meditation is not separate from life. Whenever meditation is separate from life, something is wrong. It becomes life-negative. Then one starts thinking of going to a monastery or to a Himalayan cave. Then one wants to escape from life, because life seems to be a distraction from meditation. Life is not a distraction, life is an occasion for meditation."  Osho
I can safely compare the feeling of finally allowing myself to truly and utterly clean (after a life time of carefree barely-cleaning rebellion) to the sensation  I used to experience as a child when my family pulled up at the corner dairy for an ice cream.  It was just so incredibly exciting choosing the delicious combination of flavours and watching them create the tower of sweet, cold, creamy substance on that orange cone.  But the main event was of course: in the eating.  For the first few licks I was exactly and precisely right there the moment.  I became the ice cream.  God that's so Zen!  And that's the correlation between eating an ice cream and finally letting myself do nothing but clean: being thoroughly there.  Somehow the ice cream excitement has eased its way into my cleaning.  Strange but true.  I'm grateful and slightly amused.

"When you do things from your soul, you feel a river moving in you, a joy" Rumi.
Today's rating: 9/10
365 Days of Fun and Chillaxation (as I raise my gorgeous son and grow my good news website to a subscription base of 100,000 people).  The Low Down on this Blog.
Check out yesterday's blog.
GD Star Rating
loading...
GD Star Rating
loading...
Tags: dreams, Emotional sustainability, good news, Happiness, optimism, personal sustainability, positive news