Home » Uncategorized
365 Days of Fun and Chillaxation – Blog#25 – Kith and Kin.
Submitted by Charlotte on May 10, 2010 – 10:26 pm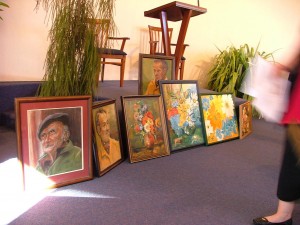 (While I raise my son and grow my good news website).
Today I attended the funeral I'd been dreaming of for the past twenty years.  It was the funeral of an artist – vividly colourful, full of music, tears and laughter.  The artist happened to be my Grandmother.  She'd touched many people's lives because when you spent time with her, she was one of those people who looked you deep in the eye, deep in the soul and loved you.  As in, she loved YOU.  People felt that and reveled in it.  People tucked the memory of that sweet sensation deep in their hearts, never to be quite forgotten.  Some went years without feeling it again.  But once you've felt it, it doesn't go away.  So today, memories were stirred and the people remembered how sweetly she'd once reminded them just how beautiful they are.  And we farewelled her and vowed to love each other just as well as she'd shown us.
And in the midst of it all, a family came together, to celebrate the life of an old gentle matriarch.   Family. Family, for all its jelly like stability sometimes, for all it's constant shifting in numbers and moods, for all it's rupturing and forgiveness, new life and celebration,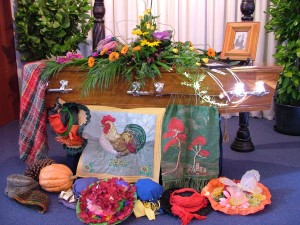 will always be family.  Kith and kin.  Blood.
Our Grandmother's blood runs through our veins.  We all look similar.  Today I heard something remarking (with a barely concealed shudder): "I heard that all the women of this family are feisty!" and I laughed.  Loud.  Well why not?  I'm of this family.  Even the most gentle women of this family are indeed feisty in their own way.  Let's just say kindness threads through the blood-lines and renders many of us deeply open to our unique gifts.  And thanks to an old lady artist, whose knee I spent many an hour sitting at, I know what mine are.
Today's rating 7/10
PS – this was played at Gran's funeral today: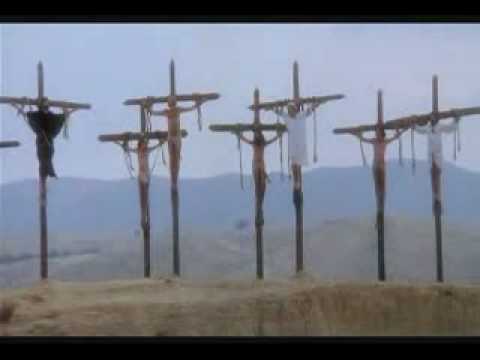 365 Days of Fun and Chillaxation (as I raise my gorgeous son and grow my good news website to a subscription base of 100,000 people).  The Low Down on this Blog.
Check out yesterday's blog.
GD Star Rating
loading...
GD Star Rating
loading...
Tags: death, dreams, Emotional sustainability, good news, Happiness, personal sustainability