Home » Uncategorized
365 Days of Fun and Chillaxation – Blog#34 – Let's Get Physical
Submitted by Charlotte on May 19, 2010 – 10:11 am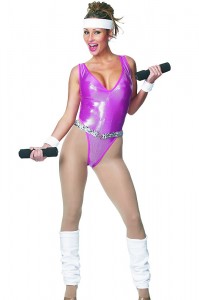 (While I raise my son and grow my good news website)
Today's recommended music as you read this blog: Flashdance – What a Feeling (see below)

Aerobics. Not usually my cup of tea. Karate's always been more in line with my personality and failing that, a good run. But due to the challenges of child care right now, aerobics (which offers free child care) is the sporting choice of the week. So it was that I found myself leaping about in an old free mason hall with a roomful of Golden Bay citizens, noticing the cows grazing in the paddocks outside. I was a little unprepared, my pants kept falling off and I wasn't wearing overly flattering underwear (they were purchased just post pregnancy therefore are large enough to fit a horse). The music was was delightfully cheesy, the teacher passionate and gorgeously likable. For a moment there, my spirits soared into an eight of of ten moment.
Today's rating 8/10
PS My computer screen (a mere two years old) is blanking out on me nearly continuously. In other words it's completely shagged. I have to pump the lap top screen up and down for ages to find the perfect angle so that I can write. So Happyzine work is proving a challenge at present. I'm waiting expectantly for a miracle.
365 Days of Fun and Chillaxation (as I raise my gorgeous son and grow my good news website to a subscription base of 100,000 people).  The Low Down on this Blog.
Check out yesterday's blog.
GD Star Rating
loading...
GD Star Rating
loading...
Tags: dreams, Emotional sustainability, good news, positive news