Home » Uncategorized
365 Days of Fun and Chillaxation – Blog#40 – Ode to the Mussel Inn (an essential Kiwi life experience)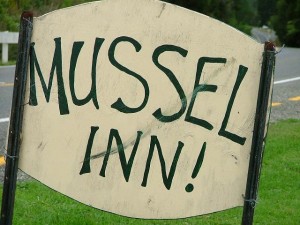 Ahhh blog number forty!  It's time to celebrate with lunch at the Mussel Inn.  Come on!  Let's abandon our original plans, throw the gear in the car and take to the bush cafe!
The Mussel Inn is, it has to be said, a rock'n place.  When I say rock'n I mean a) it literally has hosted hundreds if not thousands of rocks bands, and b) I mean rock'n in the more modern sense of the word.  The place feels damn good.  It oozes eccentricity and warmth.
It's also quite a laid back establishment, this is a blurb from their site:
"Built in 1992 by   Jane and Andrew Dixon and their two sons, Henry and Toby, with a big whack of encouragement from John Mitchell , the Mussel Inn could be described as 'Kiwi woolshed' meets 'Aussie farmhouse' in style of construction. A single room with a veranda on three sides, chunky wooden furniture (tables good to dance on) and a large open fire
create a space that is rustic and homely.
No need to get dressed up – in fact there is no dress code – although it would generally be more appropriate if some clothes were worn – the atmosphere is laid-back and  family friendly."
I've seen som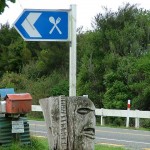 e wild times at the Mussel.  People literally do dance on the tables there from time to time.  And as the blurb says, that's just fine.  Whew, and I was worried about my son sitting on the table there today!  No wonder they gave me a funny look.  I should have asked him to walk around on it.
The Mussel was one of the first places that I sang at, and the audience were great!  They were so into my music that I instantly felt like a rock star.  It's a great place to feel appreciated as an artist.  They pay generously too.
Stepping back into the Mussel Inn, after three years away, was divine.  It's a wooden cabin, the walls are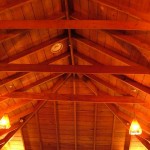 covered in years of art and messages and strange, quirky Mussel-ana sculpture.  It smells like a wood cabin too … it's you know … woody.  The fire, in a huge open fireplace, had died down to a rosy glow when we turned up.  The room was warm, clean, and oh so welcoming.
This iconic venue has won environmental awards for it's gorgeously and creatively sustainable systems.  It has these fantastic composting toilets (Kakapo Composting Toilets), and a crank'n micro brewery.  Andrew and Jane are staunchly supportive of the 'buy local' concept.  And their place is thriving so they must be doing something right.
Their place has such a unique lure to it that international acts who wouldn't usually play in the Bay make the extra effort to book into play at 'The Muss'.  Apparently they'll even take a pay cut for it (this is who's played there)
When we approached the counter the woman serving us noticed that I was using a kiwibank eftpos card and declared.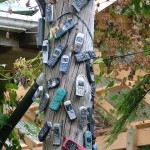 "I thought about heading to the bank and withdrawing all my money when I heard John Key (our Prime Minister) taking about selling Kiwi Bank because it's too big!" She looked indignant and like she meant it.  I agreed with gusto after digesting this interesting and not pleasing information.
"Thanks Charlotte" she said and I was chuffed that she knew me, though couldn't remember where I knew her from.
I'm just about to launch a campaign to boost our subscription base and the Mussel have agreed to pledge two meals with deserts as part of the lush prize package that I'm pulling together.  Groovy.  Who ever wins that prize is in for an EXPERIENCE.
If you're keen on stepping into the parallel universe of the Mussel Inn you can find them on the Onekaka Highway.  Some nights there
are cars lined up for miles along the road, though during the day they might be a big tricky to find.  Believe me, check this place out, it's truly worth it.
Today's rating: 10/10
GD Star Rating
loading...
GD Star Rating
loading...
Tags: good news, Happiness, positive news