Home » Uncategorized
365 Days of Fun and Chillaxation – Blog#70 – Introducing the Green Urban Living kiwi website
Submitted by Charlotte on June 24, 2010 – 3:38 pm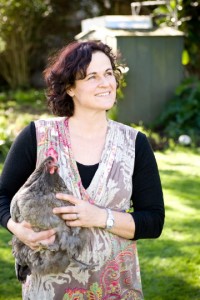 Don't you love finding people who dream exciting green dreams and make them happen? Today I 'met' Janet Luke.  This is how she introduced herself to me via email:
"I am a Landscape Architect, Environmental Planner, Permaculturalist and mother of three young boys. I run my own business and associated website called Green Urban Living. Green Urban Living is all about teaching people new skills to live more sustainably in an urban environment, whilst having fun doing it. I run courses from my home garden on organic gardening, building adobe pizza ovens, keeping urban chickens, mini urban orchards amongst other things. My business and garden are featured in the latest Next magazine."
Check out her site: http://www.greenurbanliving.co.nz/  I was deeply impressed to see some of the interesting projects that Janet's spearheaded, such as building a 'Bug Hilton' to attract beneficial insects (you've got to see it, scroll down the front page of her site), growing an amazing veggie garden with herbs in it that she uses to make 'witchy poo' recipes, keeping chickens (she says they're the 'new black' of the 'burbs), keeping honey bees in a top bar hive … and I suspect that's just the beginning.  All with her three young boys helping out.  If you're a DIYer, home body, food growing, get back to nature kind of person, you'll love this site.  If you live anywhere Havelock North, Janet also runs Urban Living Courses that you are must welcome to attend.
Janet's going to start blogging about her passions for Happyzine, so stay tuned for more Janet action soon.
Today's rating: 9/10
365 Days of Fun and Chillaxation (as I raise my gorgeous son and  grow my good news website to a subscription base of 100,000 people).  The Low Down on this Blog.
Check out yesterday's blog.
GD Star Rating
loading...
GD Star Rating
loading...
Tags: chickens, Children, good news, green, honey bee, Sustainability