Home » Uncategorized
365 Days of Fun and Chillaxation – Blog#102 – Thirty Four Years Dinosaur
Submitted by Charlotte on July 28, 2010 – 11:35 pm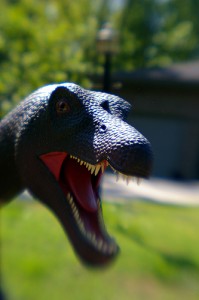 I'm relaxing after a hectic day of answering facebook happy birthday messages, relaxing in the sun while my friend told me not to do any work, and consuming appropriate amounts (ie bountiful) of food at my pot-luck birthday dinner.  What a day.  It was everything I visualized, literally.
Yes, I thought I'd take matters into my own hands and tell every living soul I met that it was my birthday today.  After all, my inner child deserved the best in birthday enjoyment.
As part of my campaign, I sent out the word that it was my birthday on Wednesday via several social networks – facebook, my friends cell phone address book (I don't have a cell phone at present, it's lovely) and word of mouth.
The results were perfect.  I wanted a gentle, loving kind of day.  I dreamed of just the right balance between a gathering of friends and the likelihood of actual conversation that stretched beyond 'eh?' because we couldn't hear each other due to the din, and a hurried smile as I darted off to find someone a fork.
Nope, none of that for this girl today.  You see, at thirty four years old, I'm a pro! It was a luxurious evening of chatter in the kitchen as we prepared food and caught up, enjoying all the yummy food that people brought to the pot-luck (including a luscious wheat free, dairy free choccie birthday cake that tasted rich and divine), and the general sharing of life stories – some sad, some content, some skeptical, and one highly enthusiastic.
My heart melted to see so many treasured friends (but not too many) in one room.  Since returning to Golden Bay, I've generally been very immersed in motherhood and running Happyzine, two activities that excluded many of my friends from the pre-child, pre-website era.  Tonight I was able to clasp them to my bosom and tell them how much I loved them!  Finally!
The half-glass of dark beer I had (after first toasting every body I could see, plus friendship, and other general life-pleasures) went straight to my head.  I'm just not used to alcohol.  One friend, Golden Bay's Recreational Coordinator turned up and after politely answering my probing questions about his love-life, finally pinned myself and a collective of musical mothers down to a gig in September.  This will be my first rock-star event since I was pregnant with my son, three years ago, and my friends hectic drumming reverberated through my womb – I'm sure that's why Kahu's such a musco today.   How very exciting.  Apparently, one of our mothers is a wild animal on stage.  I'm looking forward to seeing her in action.  As for me, I just want to sing my heart out.
Right now in life, I feel immensely happy.  Everything seems possible.  Happyzine's moving ahead in great strides behind the scenes.  It will all reach the 'surface' of this website soon.
By the way, the term 'thirty four years dinosaur' was some how coined by my nearly-three year old tonight.  I think he was trying to say 'thirty four' but instead he said 'dinosaur'.  Hmmm, interesting slip of the tongue.
Today's rating: 10/10
365 Days of Fun and Chillaxation (as I raise my gorgeous son and grow my good news website to a subscription base of 100,000 people).  The Low Down on this Blog.
Check out yesterday's blog.
GD Star Rating
loading...
GD Star Rating
loading...
Tags: dreams, Emotional sustainability, Food, good news, optimism