Home » Uncategorized
365 Days of Fun and Chillaxation – Blog#103 – Hello Irish People!
Submitted by Charlotte on July 29, 2010 – 4:22 pm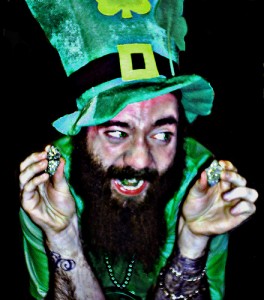 My friends in Ireland have Happyzine as their home page, so every morning when they kick up the computer, the latest Happyzine news, including this daily blog, leap out at them in a cheery sort of manner.  I know this sounds strange, I mean, I do run a website, but that astounds me.  All this news is sitting in the living rooms, offices, and bedrooms of god knows how many people, and contributing to their days in some small way.
Gosh.  What a responsibility.  What an honour.  What fun!  Hello Irish people!  Hello people in Wanaka!  Hello people in … Moscow (I think there's one person, though that person could be a spammer).
This goal of mine, to attract 100,000 people to sign up to Happyzine in one year has been on my mind lately.  Imagine that … well actually, I am …
Lately I've been reading more positive thinking books and I've been reminded of the reason I started a positive news website – it really does make a huge difference – thinking happy, confident thoughts – to our expectations of life.  At present I'm reading that old classic Napoleon Hill (here's the free download), he wrote it decades ago, and even though his language is a little dated, his passionate lament about the power of keeping the fertile mind well composted with inspiring thoughts still rings true.  That's why so many books and dvds have sprung forth from his book.  The man was onto something.  He was very rich himself, and he wrote about how to make more money.  But it wasn't only about that, it was also generally about how to reach your dreams.  How to train your subconsciousness and tap into the 'great unknown' for the knowledge to take your thoughts along a few steps into the day to day existence of a human.  His words are doin' it for me.  He's like this old, fatherly, determined, rich guy who was willing to go out on a limb and explain his spiritual approach to making stuff happen.  It's nice to have my tattered old copy of the book beside the bed.
And so I dream of reaching more and more Irish people,  Australian people, and people who live in Invercargille.  Happyzine takes a lot of tweaking, as we work out what works and what doesn't.  I am constantly delighted and astounded by the amazing writers and readers who make themselves known within this community, for example, check out this latest beautiful piece called 'The Bus to Permaculture' by Rebecca May.  Things really do just keep getting better.  And there are exciting times ahead.
Today's rating: 9/10
365 Days of Fun and Chillaxation (as I raise my gorgeous son and grow my good news website to a subscription base of 100,000 people).  The Low Down on this Blog.
Check out yesterday's blog.
GD Star Rating
loading...
GD Star Rating
loading...
Tags: dreams