Home » Uncategorized
365 Days of Fun and Chillaxation – Blog#111 – Heading for the Hills
Submitted by Charlotte on August 6, 2010 – 9:00 pm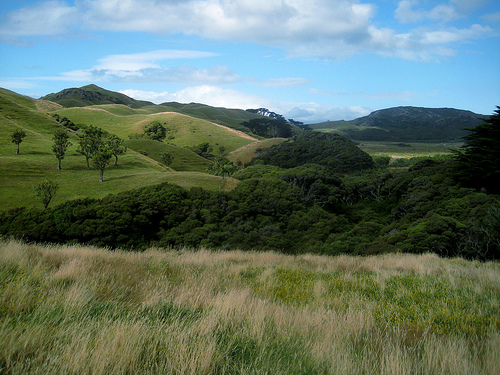 I'm going bush.  Let that be known. Out of the depths of my sub-consciousness is arising the curious urge to take family and food and flee for the day into the bosom of the very alluring, very nearby 'great out-doors'.
As a child I was cheerfully hauled around to experience all my father's favourite outdoor haunts.  This basically involved collecting a lot of free food:  sea-food, white bait, crayfish, fish, fruit, nuts, mushrooms, honey … all the while exploring wild beaches, abandoned paddocks,  forests, creeks.
At the beaches, we'd build fires and he'd drink billy-tea and smack his lips appreciatively while we nibbled on musli-bars and sandwiches.  In the fields, he'd turn field mushrooms over and study them with his expert eye, telling me how juicy they'd be when we fried them up later with some butter.
One time a rip-tide removed his clothes as he was spearing butter-fish, while we hung back, not knowing of his adventure, admiring rock-pools on the wild-west coast.
And all that time spent out in nature left its mark in me, which is only to emerge now that I'm a parent, and hence the 'grown up around here'.  So yes indeed, this weekend we shall flee to the wilderness to relax and be and recharge.  This escape I'm dreaming of tonight, because, I would like to proudly announce that I've worked very hard this week and therefore: I'm organised.
Sigh, having said that there are a few more things to be done tonight on Happyzine.  I'm now learning to say 'no' to things, and I'm learning to be real about how much I can achieve.  This has been the year for facing the full reality of trying to fit too much in, working out what's important and what's not, and then having to pull back and gently regain my balance.  I need an advertising person to step up and help me as the demand's growing and I'm not able to to keep up! This is a good thing.  Though at present, it's weighing on my mind.
So, getaway's must be righteously claimed!  And they shall be, oh yes, they shall!  Sometimes you've just gotta make it happen – your time out – if you want to maintain your well-being.  Well that's where I'm at right now anyway.   I'm a mix of tired, proud of my progress, happy, deeply in love with my family, and aware that I need to take some time out to re-charge.
Today's rating: 8/10
365 Days of Fun and Chillaxation (as I raise my gorgeous son and grow my good news website to a subscription base of 100,000 people).  The Low Down on this Blog.
Check out yesterday's blog.
GD Star Rating
loading...
GD Star Rating
loading...
Tags: Emotional sustainability