Home » Uncategorized
365 Days of Fun and Chillaxation – Blog#119 – Had a Busy Week? Try Hot Water.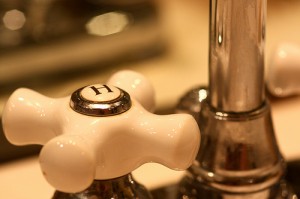 What's a girl to do when she's been flat out all week running a way cool website, teaching people how to blog, and make money from positive writing, and raising an even cooler kid who happens to keep her up two nights in a row and (not that she minds) deprive her of sleep?  Why hit the bath of course.  For three hours.
That's right folks, today was family bathing day.  Though Maia the dog wasn't allowed in, no matter how cute she looked.  I grabbed my new (birthday present) tube of yummy Weleda rose shower wash, Kahu grabbed his deflated speed boat and we spent the morning in soothing, lavender scented hot water.  This humble escape served as yet another of my cleverly designed mini-holidays.  After an hour I felt like I was reclining at the beach-bach in Para Para I spent half my child-hood in.
Yes, the tension ebbed away and time ceased to be an issue.  After three hours I was so relaxed I could hardly form words.  And that's saying something for a pro talker such as myself.  And the smell of that Weleda rose stuff … ahhh, it transported me to a luxurious desert island where I was being waited on by rose clad servants (who were paid high wages and enjoying excellent  employment conditions) who provided me with platters of tropical fruit, focaccia bread with heaps of olives, and the occasional pina colada.
This type of 'getaway' is great for someone who can get a little too 'heady' and intellectual, as the hot water simply takes over, rendering the brain muscle just another part of the human body.
It took the afternoon for my speech to properly return, I'm not kidding.  And I'm still feeling the effects of my epic bath now.  I highly recommend it as a family pass-time.  And if you want to get really green on it, you could use your bath water to water your garden – though that's another subject.
365 Days of Fun and Chillaxation (as I raise my gorgeous son and grow my good news website to a subscription base of 100,000 people).  The Low Down on this Blog.
Check out yesterday's blog.
GD Star Rating
loading...
GD Star Rating
loading...
Tags: water