Home » Uncategorized
365 Days of Fun and Chillaxation – Blog#120 – How to Get All 'Zen' About Life In a Cheap Date Kind of Way
Submitted by Charlotte on August 16, 2010 – 10:43 pm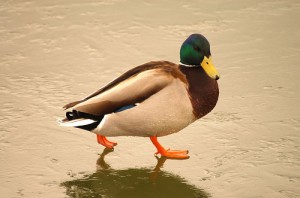 Yeah, when it comes to life and happiness I'm a cheap date.  I mean, it doesn't take much to please me, lately.
Momentous moment number one for today was when I was driving along and two ducks (a cute couple) stepped out in front of me and meandered in a leisurely manner across the street.  They were cruisin.  They reminded me of the elderly population of Christchurch who also seem to often step out in front of traffic to meander at their sweet leisure across the street.  The ducks too have an aura of community ownership about them, they're beaming out a 'yeah, this is my hood, it's been my hood for years and before that it was Mama's hood, this is MY hood, so slow down and wait for me to cross or use a different road' sort of a message.  Both the ducks and the elderly people walk slowly and seem to be looking straight ahead, completely oblivious of the traffic, as if eager to get to where ever they're going, but enjoying the journey too.  I pondered what would happen if I stepped out in front of traffic and tried to fake such a demeanor, but decided the risks outweighed the experiment.
And meanwhile Happyzine grows, I upskill and become computer geekier by the second (thanks to more amazing lessons today from the greatest business coach in the world Serena Star Leonard, honestly, just when I think she can't possibly have anything more to teach me, she blows my mind with new, fascinating tips, for example if you run your own site, check out websitegrader, you can compare anyone's site).
Now onto momentous moment number two – yes this time it was the rain on the roof of the deck – beautiful.  Tonight, I got to stand outside, listening to the rain pitter-patter, feeling the not-too-cool but cool enough, cleansing breeze of rain laden air around me, chatting to my little brother on the phone, while my son ran around me in circles and my dog gazed longingly into the night air in the direction of her girlfriend.  Sigh.  I love my family.  And I love my life.
Today's rating: 10/10
GD Star Rating
loading...
GD Star Rating
loading...
Tags: Emotional sustainability, Happiness, zen