Home » Uncategorized
365 Days of Fun and Chillaxation – Blog#124 – Your Prescription: Take One Dose of Delicious Anticipation Per Day!
Submitted by Charlotte on August 20, 2010 – 6:00 pm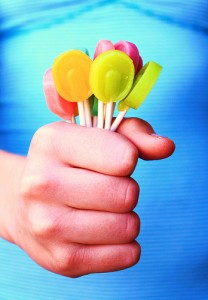 I've got the night off my main job tonight: that of being a Mama.  Tis the most important job ever!  And I try very hard to do a good job (don't we all?).  So tonight I'm foot loose and fancy free and am thus trotting off to the movies to sigh wistfully at the latest vampire movie (I love that way that Edward vampire guy manages to pull off that 'she's irritating but I'll love her for at least another thousand years' look).
All day I've been tingling with anticipation.  I honestly feel like the little girl at the corner dairy.
Flashback:  I'm standing there face to face with hundreds of sweet, colourful lollies, each one promising profound moments of sweet wonder and delight.  I've got a whole fifty cents warming up fast in my hand, and it's going to buy me some seriously divine moments of pleasure.  I've forgotten all my little girl problems (the homework, the fact that I've got to trudge back up the hill, the stroppy teacher, the impatient shop-assistant), my only problem in life at this moment  is which lollies to choose (we're back in the eighties when fifty cents would go a long way and they still had one cent lollies).
That's how I feel today, only I've put twenty dollars aside (Yes!  Twenty Whole Dollars!  No! That Was Not Sarcasm! Neither was that!) and so I'm deliberating about whether to go all little girl on myself and buy lollies or to feel slightly more mature and go gormet ice-cream.
To allow oneself to revel in the sweet, innocent delight and excitement of anticipation is a good, good thing.  To allow oneself to relax into that old tingly fever of joy that we all felt as kids, for all manner of strange and glorious reasons, no matter what age we are, is fantastic thing.  In fact, you're doing everyone a favour, because you're allowing yourself to feel happy.  And so I urge you all to go there.  Soon.
Today's rating: 9/10
365 Days of Fun and Chillaxation (as I raise my gorgeous son and grow my good news website to a subscription base of 100,000 people).  The Low Down on this Blog.
Check out yesterday's blog.
Would you like to pre-order Charlotte's soon to be released e-book 'Ten Ways to Have Fun and Chillax As You Contribute to the Green Generation'? Email charlotte@happyzine.co.nz
GD Star Rating
loading...
GD Star Rating
loading...
Tags: dreams