Home » Uncategorized
365 Days of Fun and Chillaxation – Blog#148 – The Benefits of Working with Wild Abandon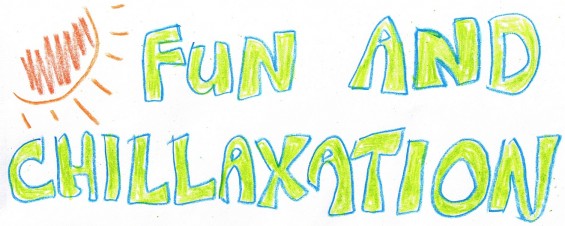 Introducing: some graphics I just drew.  All by myself.  And scanned.  Just like a grown up.  Though not really.  These are for the soon to be released ebook that I refer to every one to two days.  The one, the first of a few I hope, that will soon be appearing on these very pages.  Today I had a scan-a-thon and did very basic graphic design stuff and thrilled myself to the very core with my achievements.  God working with colour and simple, fun design takes a girl to a playful place.
Though really, you've got to see it all together.  You know.  On a page, with actual writing.  I think it looks wonderful!  Yes, I just said that.  In a totally un-humble way.  About my work.  But really my friends, right now I can't rely on anyone else to adore my artistic efforts, so I might as well enjoy myself enthusing about them.  I don't mean to sound cynical.  It just so happens that right now I don't have anyone in my life who is polite enough to just say: I love it!  No matter what they think.  Nope.  Most in my circles say exactly what they think.  God it can be scary sometimes.
Wanna see more!? Well ok!
You know, it's very liberating to recklessly draw.  It's like recklessly writing.  Or brain-storming.  Or throwing ingredients into a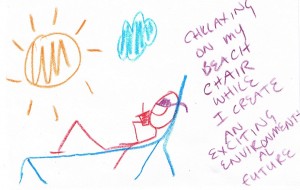 bowl with wild abandon.  The mood infuses the finished product.  And you wind up with this colourful, distinctively flavoured creation with a great memory attached to it.
The other thing about working with wild abandon, is that it (the creation) flows out like fresh, liquid honey.  Unhindered by thought, fear, pragmatism, or worry, ideas come out in great, vivid strokes of brilliance.  Our very own: brilliance.  My Grandmother taught me that.  She always loved my art-work.  She would praise my lines and say 'what a great straight line, you know, true artists never use rulers in their work'.
And now onto the subject of my current aim in life, the goal that this blog is based upon.  Every day that I write, I wonder, I dream, I consider my goal of reaching 100,000 Happyzine subscribers in one year.  I see my life as if I've already achieved it.  It's nearly been six months and I haven't even hit 1000 subscribers yet.  Last time I looked, I was up to 915.  For the past nine months (ha!  I just realised the relevance of that time frame!) I've been working on developing my first ebook and our Wild Energy competition.  I am soon to find out whether these two projects will make a significant difference to Happyzine's subscriber base.  Will they?  Who knows? And really, it doesn't matter.  I'm just having a damn good time trying, and peeking around each corner day by day to see what's unfolded next.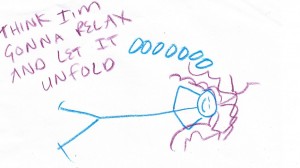 Mini Law of Attraction ponderous analysis
You know, there are some things in life that I find immensely easy to attract – such as organic produce, absolutely amazing good-news writers, warm woolen jerseys, and it seems, fantastic rental accommodation.  And I know, I am absolutely certain, that the same law applies no matter what you're intending to pull into your day to day existence.  It's just that some stuff feels easier to keep the faith in attracting, than other stuff.  And my grand dream of bolstering Happyzine to such a fantastic subscription base has certainly challenged me at times.  I mean it's a huge dream for me!  But imagine, just imagine, if Happyzine did reach that level.  Imagine if a good-news website was bringing love and delight into that many people's lives each week.  It's a thrilling thought.  On so many levels.   And that's all I can do.  Just keep imagining, keep considering how life will be when that dream's realised, and doing the best I can do what what I have.
Each step towards my dream feels wonderful.  Every time I do something that I know will take me closer, it feels good.  And this, truly is life at its best: the enjoyment of the journey.  I know that the happier I am, the easier it is for me to believe that I will hit that 100,000.
Today's rating: 10/10
PS many of you keep sending me some really delightful messages of praise. Thankyou.  These messages are so sweet and I take them into my heart.
365 Days of Fun and Chillaxation (as I raise my gorgeous son and grow my good news website to a subscription base of 100,000 people).  The Low Down on this Blog.
Check out yesterday's blog.
GD Star Rating
loading...
GD Star Rating
loading...