Home » Uncategorized
Hannah's (Pre) Spring Clean: Blog Five – Let's Get Connected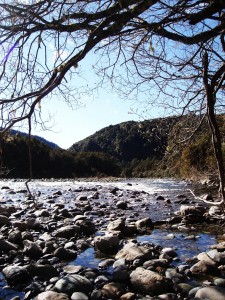 Good day, ladies and gentleman. It's shaping up to be a cold and wet one here in Golden Bay, but I am warm and cosy at my computer course in town, putting off the inevitable journey into Excel in all its intricacies.
I am feeling reasonably good – apart from this ongoing swollen throat thing that keeps barking at the edges of my otherwise sunny demeanour. Optimism pursues though, and my state of mind continues to be light and joyful…though that could be totally related to being absolutely in love.
I've been thinking a bit about food lately, as it appears that my long-held control issues around it and eating in general seem to have floated away, out of my everyday consciousness. For a long time I found eating a bit of a challenge, with deeply engrained ideas of body image and how much, how often, and what I put into my body. Combine this with determined exercise and you have a recipe for unhealthy living. The unfortunate part was that I didn't actually have the energy to work off what I was consuming, or at least I couldn't achieve the amount of exercise I wanted to be doing. The result? Deep insecurity, painful self-obsession and general unhappiness.
In the last year I have discovered a pattern between my emotions and how I was eating, notably feeling overwhelmed by my emotions and instead of looking at them, eating everything in sight. Corn chips seemed to be the go, and nowhere in there was any consciousness about hunger or satiation.
Since I started counselling last year in an effort to overcome this and many other issues, I was able to look at what I was up to and without really even trying; lately it has all melted away. It helps to be with someone who totally adores you and the body you move around in, but more than that it seems the controlling part of my mind is taking a bit of a holiday in that department. I've noticed it in other areas of my life too, but this one is the most interesting to me right now.
In the last few weeks I've observed that I am much more aware of when I'm hungry, when I'm full, and what foods my body wants me to eat. I've noticed that I eat more slowly, tasting the food in my mouth. This doesn't necessarily mean I'm always eating salad – just that I seem to be more in touch with my body. Last night I felt like fish and chips, so I got some. Instead of chowing down the whole lot and then feeling guilty, overfull and unhappy with myself; I felt satiated, satisfied and actually didn't finish all my chips. I didn't feel like I needed to…because I recognised when I had had enough!
Breakthrough.
In other news, I've been reading a lot lately about spirituality, I mentioned a book I was reading last time but I've since started another. Currently I am immersed in Return to the Sacred: ancient pathways to spiritual awakening, by Jonathan H. Ellerby. I'm about a third of the way through, and have become interested in spirituality again since my Bodytalk session with Tania. As I've mentioned, in that session was a link between a stifling or blocking of the mystical, spiritual, idealistic side of my nature. Since I was little, I have noticed many moments in which I felt deeply spiritual, whether it was sitting in long grass with the cat, absolutely enthralled in the present, or feeling connected to things greater than myself but ultimately difficult to define or describe. In his book, Ellerby is communicating the absolute essential nature of some kind of spirituality in each of us, whether it fits into a definable category or faith, or not. He says that a lot of us WANT to be spiritual, we read and study books and texts, we attend talks and workshops, but then when nothing deeply resonates or changes in our lives, we can feel disheartened or like we just haven't found the right path. He goes on to emphasise the importance of a dedicated practice. Just like any other area in our lives, without a commitment to a practice we cannot ever really experience true connection to Spirit/God/Higher Consciousness…whatever you choose to call it. I also like what he says about HOW you achieve this – like anything else, it is different for each person, so it is up to us to discover a meaningful practice for ourselves. Praying, dancing, devotion, gurus, chanting, exercise, group or solitary, organised religion or not…there is no one-size-fits-all for this.
The rest of his book outlines the various paths we might consider, depending on whether we are Body, Mind, Heart or Spirit oriented people. I think I might be a combination of Body and Mind…I think I could create a spiritual practice out of some kind of movement (think Yoga, Tai Chi, Qigong) or head-related (study, meditation etc). I am interested to read more about this, and see whether any of these things seem to resonate or repulse. I think that might be a good start.
Over and out (feeling connected to the river)
Hannah
GD Star Rating
loading...
GD Star Rating
loading...