Home » Uncategorized
365 Days of Fun and Chillaxation – Blog#154 – Getting Pristine – the Lazy Person's Guide
Submitted by Charlotte on September 22, 2010 – 5:51 pm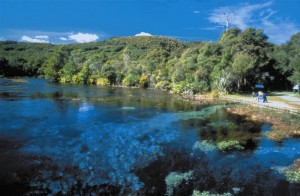 As well as living at the foot of New Zealand's hottest hot bed of biodiversity.  I also live around the corner from Te Waikoropupu Springs – Australasia's largest fresh water springs, and the world's cleanest, clearest springs.  Yep, it's all in a good days work for me – hang'n out in amazing, pristine places, inhaling clean air, gazing mesmerized into blue green depths, marveling at the volume of the tui birds, ok I'll stop skiting now.  So that's what I did today.  Hung out.  In the pristine-ness.  I would like to say I meditated and deeply appreciated the purity of the moments I spent there, but I won't. For you see I can't.  Rather, I chased my (luscious and immensely entertaining) three year old around and explained many times that there were no dinosaurs in the forest.  It doesn't pass me by though, the fact that I live here in the midst of all this amazing natural-ness.  And I'd like to help more people come and recharge here at some point in the future, particularly those doin' their good thang for the planet.
Over the past few days I've been been very focused asking Kiwi businesses to sponsor Wild Energy – our green energy design competition that we've been working on for more than six months, and the delectable Jeanette Fitzsimons is helping us with.  I've been asking for some pretty groovy prizes!  I thought the chicken coop was the best one so far, closely rivaled by the bicycle and trailer, then the underpants.  Got a prize you'd like to offer? Email me: charlotte@happyzine.co.nz
Right, I'm off to buy hot chips and drink boysenberry and apple juice with the family!
Today's rating: 9/10
365 Days of Fun and Chillaxation (as I raise my gorgeous son and grow my good news website to a subscription base of 100,000 people).  The Low Down on this Blog.
Check out yesterday's blog.
GD Star Rating
loading...
GD Star Rating
loading...