Home » Uncategorized
Hannah's (Pre) Spring Clean: Blog Nine – Ciao For Now
Submitted by on September 30, 2010 – 11:05 am
One Comment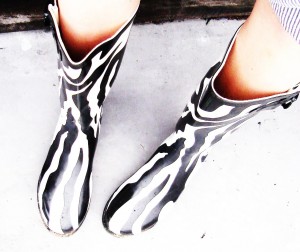 The last day of September is already here…days have slipped and flipped around like yoyos. Seasonal change has brought much excitement and left me feeling somewhat unsettled, scattering the mind in the wind with the blossom petals. My life feels incredibly full and busy-
in the last five days alone I've been to Nelson twice; been confronted with my total lack of ability in the realm of connecting with and entertaining children under 10; welcomed a flatmate back into the house after a month and a half with the place to ourselves (not necessarily a bad thing – she is wondrous and delightful); challenged my unhealthy head-thinking as I descended into a state of negativity about myself.
I've bought myself some gumboots (zebra-striped for ultimate coolness); thought about owning a goat; read a few chapters of Peta Mathias' book French Toast; skimmed stones with incredible skill in the Anatoki River; cooked for numerous people and eaten a delicious feast at a friend's place just yesterday (pumpkin soup, followed by a green salad from the garden, followed by sushi which actually had spirulina in it, followed by Green & Blacks Maya Gold chocolate).
I've slept on average 9 hours a night and have still been tired. I guess that's understandable. This afternoon I have a job interview, just to try and squeeze a little more into my busy schedule.
I've been thinking about this pre-Spring clean thing I'm trying to do. I wanted to take this on to the next level and after this month of cleaning myself up a little bit, tackling a real cleanse. But right now, I don't know if that's the thing to do. I think it might tip me over into real fatigue; challenging my immune system a little too much. My intuition seldom fails me, so I'm just trying to listen to these messages right now, and maybe think about a proper detox over summer.
One thing I am pleased about is the alcohol situation. I was very accustomed to drinking frequently; bombarding my body with toxins to
process and then lamenting my low energy; poor digestion and sometimes low spirits. A habit formed – suddenly I found myself requiring the
lubricant in order to feel socially comfortable, ease boredom and stimulate false energy. I feel that the habit has been broken, despite
the occasional dalliance during my month off.
I can now feel more comfortable at dinners with friends or family without the ever-refilling glass of wine. I have experienced a night out dancing and partying with friends without waking up with a hangover. I am no longer hanging out for my first glass of wine as I cook dinner. These things please me, very much.
My goal as I move forward is to continue in this fashion – and I am thinking it would be best if I avoid drinking during the week for starters, allowing drinks for special occasions and parties. My body and mind will certainly thank me for it. This was my main goal for the month, so I am actually pretty pleased with myself – change is a-happenin' in this department.
As for my other goals:
Exercise: there hasn't really been great success in this arena. However – I have rediscovered the absolute pleasure and benefit of yoga practice, and I intend to continue reminding myself to unroll the mat. As my back has been getting sore lately, I am also recommitting to my physio exercises, so as to avoid serious back problems in the future. It is up to me to help myself here…and it has nothing to do with vanity (although…summer is fast approaching, bikini weather looms). I have a sequence of moves, I know what to do, so I shall work my way back to a regular routine and reap the rewards for years to come.
Diet: I've noticed that my digestion seems to have a lot to do with intolerances, but probably just as much to do with my emotional state.
During this last week of emotional upheaval and challenges to me self-esteem, I've noticed some changes in my digestion as I struggle to digest these other things. I will continue to work on myself, eating healthily and consciously – with the added benefits of Kefir and Kombucha. I know what foods to avoid but I am holding onto the hope that these things change too, so one day eggplants and cabbage and pulses and onions and garlic will once again be on the menu. I know that I eat well, I eat slowly and I'm listening more to my body's messages, so I'm pretty content in this area too.
Bodytalk: Although I cannot afford to continue having sessions of Bodytalk, I still highly value the things Tania relayed to me during
my one session. I am still learning to tune in to my body, and am now a firm believer of an innate intelligence at work beneath the skin. I
am learning to love my body, in all its strangeness and glory, and respect it too. I think I will only get better at this.
Learning: I am a reader. I consume books like food, magazines too. I love to read about new ideas, concepts and theories. I enjoy learning
and having my brain stimulated by new information – and I am ever grateful for our small library in Takaka for letting me continue to do
this. During the last month my reading has focussed mostly around spirituality, an area I am interested in but am yet to put into practice in any definable way. Perhaps this can be a new goal for me to carry forth into my hectic and heavenly existence.
And so…I love you and leave you. We are in the midst of a steady downpour and it is highly likely I will end up stuck out here in Rainbow Valley, slips and trees having a tendency to come down across our one road to town. I wouldn't mind, only I have to see a lady about a job…I don't think my schedule is busy enough. Ha.
Over and out,
Hannah Campbell
GD Star Rating
loading...
GD Star Rating
loading...
Tags: Health