Home » Uncategorized
365 Days of Fun and Chillaxation – Blog#173 – Nice Easy Day and I Have a Great Idea!
Submitted by Charlotte on October 12, 2010 – 6:00 pm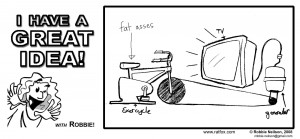 Today I was still recovering my son's birthday.  It's funny isn't it, how these occasions present them selves as corners in our lives, and once they're over and done with, there's the feeling of space and it's time for the new.  Well that's how it was for me.
today I had a food hang-over, even though we ate disgustingly healthy food.  The poor children. I know it was a food hangover because I woke in the middle of the night wanting to hurl. It might have been the chocolate I had after the do.  Or the sheer quantity of food consumed.  What ever the cause, movements in the house were slower than usual.  Moments of stillness were stretched into longer moments.  And many rests were taken.  Nice day though.
Speaking of big bottoms, the lovely Robbie Neilson sent me in this amusing cartoon as a contribution to Wild Energy competition. Whatdoya reckon?  How might this cartoon be used?  I'm chuffed that a cartoon making person was thoughtful enough to offer their work.
One of our writers – Rose Diamond – popped in today on her way through Takaka and we schemed about future ebook launches and articles.  You'll be seeing more of Rose on our pages very soon as she's moved back to NZ and as Happyzine is presently more a Kiwi site (though not forever) she'll find it easier to write for our audience.
Right! Gotta go! Got a hot date with a penguin and a three year old,
Today's rating: 8.5/10
365 Days of Fun and Chillaxation (as I raise my gorgeous son and grow my good news website to a subscription base of 100,000 people).  The Low Down on this Blog.
Check out yesterday's blog.
GD Star Rating
loading...
GD Star Rating
loading...