Home » Family
365 Days of Fun and Chillaxation – Blog#176 – First Time Parenting: An Extreme Sport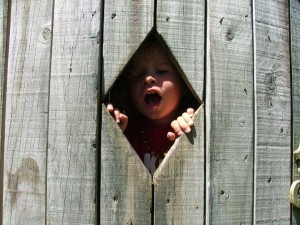 When I first had my baby, who is now a toddler, parents would smile at me and ask: 'is he your first?'.  When I said 'Yes!' they would beam, or smile knowingly and give me a Significant Look; or laugh as if they knew something I didn't.  I always wondered why on earth it mattered.  I wondered why the first child was so relevant, as opposed the the second or third child.  I remember watching the people who responded to that same question with 'No, this child's my second', receiving the lukewarm 'oh' from those very same people and feeling mystified.  I knew the first child was an exciting, new thing for parents, but really, did that warrant all the fuss?
Today, as I watched my son playing ponderously in my veggie garden, I got it.  I realised just how much I've been through in the past three years and nine months.  I understood that they were referring to the 'utterly turning every thing inside out and upside down explosively drastic change'  in life-style that parents under-go when they pass through from no-child to a child.  The change strikes on a million subtle levels and never let's up.  It's exhausting, and it's thorough.  It's profoundly touching and it's beautiful.
No longer can you just nip off to a friend's for a long chat and a cup of tea as you once did as a parent.  Oh no.  Firstly you can't 'nip' anywhere as it all requires hours of packing.  Secondly, the long chat will be interspersed with numerous breaks in the conversation to see to baby/child's needs.  Thirdly, you can no longer focus on anyone other than The Child very well at all, especially in the early days.  Unless they're happily breast feeding, and even that lands you (if you happen to be the breasted one) in the soft, floaty land of happy hormones that render you, well, extremely relaxed shall we say?
Now this is just one example in millions of small changes that we parents experience.  Unless we're in denial of parenthood and we ship them off to be raised by others.  Which some people do.  And I did not.  So, each moment in my life has been altered over the past few years as the result of being a doting, loving Mama.  That's what those people meant with their knowing looks and quiet smiles.  They meant: there is absolutely nothing I can say to prepare you for that which you're about to experience.
And do you know the other thing they said: it gets better and better.  And it does!  When I first had Kahu the love I felt for him, well actually sheer miracle of tending to a baby that from my very own body and watching him thriving, was heart openingly life altering.  People would smile and say 'and it only gets better'.  I would wonder how.  How could it possibly get any better than this?  And you know what? Some how moments keep happening that top the last big moment.  It just does get better.  I must say – getting a full night's sleep is rather exciting (it took two and a half years).  Yes, parenting for me has been layer upon layer of experiences that just get better and better.  Kahu's father and I both feel the same way about this.
Delightful moment of the day: my son dancing freely and expressively amongst his friends at music class.  I sat back marveling and hoping I would always be able to encourage such creativity.
And now onto the other significant aspect of my life:
Happyzine progress report: we have two new sponsors for Wild Energy!!!  They are: Mariposa (Seriously funky clothing for women, men and children – who are my favorite clothes shop, in fact I'm wearing one of their bright dresses as I write), and the Sandcastle – (eco accommodation as written about in a previous blog here) here in Golden Bay.  So people who enter Wild Energy the green design competition will automatically go in the draw to win spot prizes from these sponsors.  Yahoo!!! We are due for Wild Energy lift off this Monday.
Today's rating: 10/10
365 Days of Fun and Chillaxation (as I raise my gorgeous son and grow my good news website to a subscription base of 100,000 people).  The Low Down on this Blog.
Check out yesterday's blog.
GD Star Rating
loading...
GD Star Rating
loading...
Tags: parenthood, wild energy