Home » Uncategorized
365 Days of Fun and Chillaxation – Blog#180 – Ro and Joanna's Groovy Little Plan for Their Place
Submitted by Charlotte on October 19, 2010 – 2:16 pm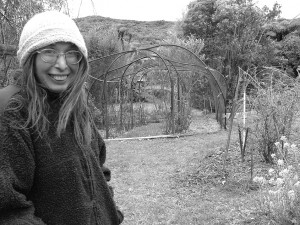 I've had a really busy day perfecting and sending out the Wild Energy press release to a long list of web sites and media people world wide who I hope will be open to publishing it and spreading the word about Wild Energy.  In the midst of all this Announcing, I posted an article by one of my lovely Positive Writing students – Joanna Piekarski.  I've also had a lot to do with Joanna here in Golden Bay as she's that person who knows everyone, she helps to hold our community together.
So I put Joanna's article up (after telling her she'd done a great job writing it, which she seriously has).  It's called 'When May Embraces November, Permaculture Dreams Come True'.
Basically, Joanna and her husband Ro (both of whom I've blogged about before because I admire the way they're choosing to live – I called them 'Grandparents of Permaculture') are starting up a new exchange between people who have been lovingly permaculturing their land over the years and those younger people who would love to manage a permaculture property, but can't see how they could ever afford to buy the land.  Ro and Joanna are seriously looking to find the right people to leave their land to, when the time comes, and they want to help others in their position.  Amazing? Yes.  Leading edge? Well sort of – culturally, but not historically.  People have always left land for people, though usually it's within the family.  So this time we're talking the Permaculture Family.  Sustainability is their life, they've poured so much energy into their land and continue to do so, who wouldn't want to see that carried on?
I'm deeply honoured to be hosting this exchange on Happyzine and am looking forward to seeing how Joanna steers it in the future.
Today's rating: 8/10
365 Days of Fun and Chillaxation (as I raise my gorgeous son and grow my good news website to a subscription base of 100,000 people).  The Low Down on this Blog.
Check out yesterday's blog.
GD Star Rating
loading...
GD Star Rating
loading...
Tags: Permaculture