Home » Uncategorized
365 Days of Fun and Chillaxation – Blog 197 – Thinking Out Loud About the Launch of 'Ten Ways to Chillax and Have Fun as You Live Your Green Dreams' – the ebook.
Submitted by Charlotte on November 5, 2010 – 1:00 pm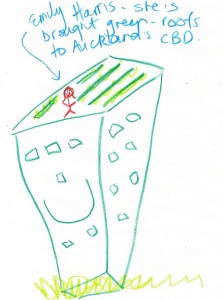 Now that my ebook's nearly ready for launch I'm beginning to ponder the actual meaning of 'launch'.  I'm thinking 'public celebrations' (cafes, restaurants, wherever), in several different locations.
I'm also thinking this will be a good way for people to meet the 'face' behind Happyzine.  I've operated very much in the background since becoming a Mum thanks to it being such an engaging vocation.  Aside from the odd TV or radio appearance I haven't stepped out at all as the 'Editor of Happyzine'.  So this could be interesting.
I'll hold official launches in Golden Bay (which is where I live), and Nelson.  Also, if there was demand, and if it worked for my family, I could travel to Wellington and Auckland for launches there.
It's a rather exciting thought – going further a field.
To make the most of being in New Zealand's larger cities I'm considering holding work-shops that correspond with the launch of the ebook.  I could offer three hour work-shops that take people through the condensed version of the corresponding courses I'm soon to offer the world.  They're courses for people who would like to explore their green dreams and understand ways they can take them from fleeting thoughts and heartfelt urges to satisfying and reality.  As well as being tied in with my ebook, they're designed to support people to contribute to New Zealand's growing 'Green Generation' – where industry, the economy, consumers and the planet successfully reply upon each other.
I think out loud a lot.  And not every thing comes to fruition.  But some things do.
So those are my thoughts, right now.  More will trickle in. Some will boom in, impossible to ignore.
If you'd like to come to the launch of this ebook I've been referring to for a very long time, email me.  And if you have any ideas about the best ways to do it in your town – let me know.
Today's rating: 10/10
365 Days of Fun and Chillaxation (as I raise my gorgeous son and grow my good news website to a subscription base of 100,000 people).  The Low Down on this Blog.
Check out yesterday's blog.
GD Star Rating
loading...
GD Star Rating
loading...