Home » Uncategorized
365 Days of Fun and Chillaxation – Blog 199 – Honey Bees – A Sign of Hope
Submitted by Charlotte on November 7, 2010 – 9:22 pm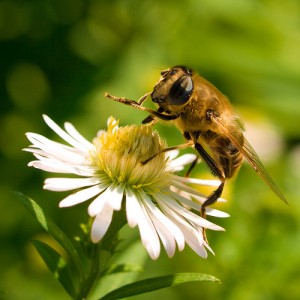 I was hang'n out on the main drag of Takaka today, gazing at some flowers and noticed a honey bee hard at work doing what bees do best.  Ten years ago this would have been no big deal but these days you've gotta count your blessings when you see these little critters at work as they're fighting to stay with us here on planet earth.  I am the daughter of an ex-bee-keeper so I'm taking this doubly personally.  Despite the fact that they sting, and they're not very cuddly, bees are divine creatures.  I like running positive blogs about bee-keeping such as Marcia Meehan's – she's passionate about bees and knows all about top bar hives.   I know we can help the honey bee remain a wild and alive species of bee, and continue to enjoy all that lush honey we take for granted at present.  God I love honey. One really cool way we can help them out is by providing a great bee-friendly habitat for them in our gardens by growing flowers.  Another Happyzine writer – Janet Luke (Landscape Designer) – goes into some detail about how to create a bee-friendly habitat here.
I'm not quite ready for a hive, but I can help out on the flowers front.
Today's rating: 8/10
365 Days of Fun and Chillaxation (as I raise my gorgeous son and grow my good news website to a subscription base of 100,000 people).  The Low Down on this Blog.
Check out yesterday's blog.
GD Star Rating
loading...
GD Star Rating
loading...
Tags: honey bee, honey bees