Home » Uncategorized
365 Days of Fun and Chillaxation – Blog 200 – Morning Tea With a Dash of Maori Language Anyone?
Submitted by Charlotte on November 9, 2010 – 4:05 pm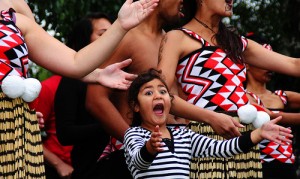 Every Tuesday I spend a couple of hours practicing my reo Maori (Maori language) with a wahine (woman) who has had much, much more experience than me in speaking it.  But still remembers what it's like to be a beginner.  Bless her.  Her name is Andrea and she's just come through five years of daily reo practice.  I'm one lucky girl.
We gather with our tamariki (children) over some kai (food) and I attempt to keep up with the conversation while she patiently validates my efforts.  It's a great arrangement for me.  I studied New Zealand's indigenous language on and off from university onwards, but never had the chance to practice it regularly in conversational Maori 'til now.  It's kinda different – learning it on paper in an academic setting, and learning it via everyday conversation.  Back when I was struggling to pass a Maori language paper in my Massey days I remember sitting alongside an old kuia (old lady Maori elder) who spoke fluent Maori, but couldn't make sense of it on paper.  I was the same … er … apart from being able to speak fluent Maori.  I could only speak fluent English.
The cool thing is – as we korero (speak) our tamariki soak it up too.
Today I reveled in the feeling of trying out the every day sentences that had been hanging out in my mind, unspoken, for years on a person who could not only understand what I was attempting to say, but could also calmly respond to me in te reo.
Wanna know what I learned today?
"Kei te tinkina au taku puku puka" – which means "Hand me that book".  Cool!!!  And …
"I whiwhi au he pukapuka mo taku huri tau" – which means "I got that book for my birthday".
At first my son was a little freaked out by his mother practicing a whole new language in his presence.  Of course, when you speak a different language, you take on a new way, a slightly different persona.  So this took some getting used to for Kahu.  He's adjusting though and as I'm trying to tell him both the English and the Maori words for some objects, he'll absorb the information in his own sweet time.  His Dad, who is doing a Maori Studies degree is immensely pleased.
Ka kite (see you again)!
Today's rating: 10/10
PS Ahhh!  I've just realised that for the first time ever I forgot to write my daily blog yesterday!  And it would have been blog number 200.  I was mega busy.  I'll have to make up for it.
365 Days of Fun and Chillaxation (as I raise my gorgeous son and grow my good news website to a subscription base of 100,000 people).  The Low Down on this Blog.
Check out yesterday's blog.
GD Star Rating
loading...
GD Star Rating
loading...
Tags: Maori