Home » Uncategorized
365 Days of Fun and Chillaxation – Blog 201 – Ready to Publish Online
Submitted by Charlotte on November 10, 2010 – 9:37 pm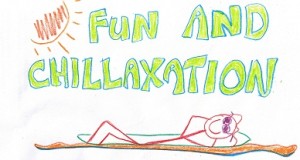 Since first discovering ebooks three years ago and thinking 'Hey! I could write one!' I've experienced a typical Charlotte Squire process: inspiration, dreaming, pondering, learning how to do it, getting the guts to do it, gathering the stuff to do it, actually doing it, being patient and taking it one step at a time, polishing it, and making it look pretty.  Tonight, I am on the brink of publishing my first ever ebook on  ejunkie.com and making it available for download.
You know how you feel at the end of a long process that stretched you, went on and on and on, up-skilled you, thrilled you, scared you, challenged you and at times felt like it would never come to fruition? Yeah, that's me.
I read through my ebook earlier and I like it.  It's quite high energy and extremely encouraging.  In fact, it's so potent and sweet with encouragement that you could get drunk and dizzy on all that 'anything's possible go for it you can do it-ness'.  It reminds me of the lime liquor I sampled today at my friend's distillery – intense, sweet, deep, fun and buzzing.  If you're ready for change, this is a good ebook to read.  If you're on an exciting path already, this book could fuel you on with renewed passion.  If you're ready for a little inspiration, this book could lead you to some pretty amazing eco-heroes and help you work out which path to take.  If you'd just like someone to tell you they believe in your for once – yeah, that happens a lot in my ebook.
It's pretty amazing finally being at the end of the creation phase.  Next stop: find the people who need this ebook.  I hope to publish it tomorrow.
Today's rating: 9/10
PS I am greatly impressed with the amount of comments that people are leaving on happyzine – it's lovely to see the range of people we're reaching. How do they find us?  How did the Auckland Transport Authority find us when we wrote about them? How did the vegan person with the vegan dog find the bit about veganism that was hidden in the Whangarei article (which was really good by the way)?  I prefer to think of it all as plain, simple: magic.
365 Days of Fun and Chillaxation (as I raise my gorgeous son and grow my good news website to a subscription base of 100,000 people).  The Low Down on this Blog.
Check out yesterday's blog.
GD Star Rating
loading...
GD Star Rating
loading...