Home » Uncategorized
365 Days of Fun and Chillaxation – Blog 213 – The Entertaining Act of Going Straight
Submitted by Charlotte on November 24, 2010 – 8:55 pm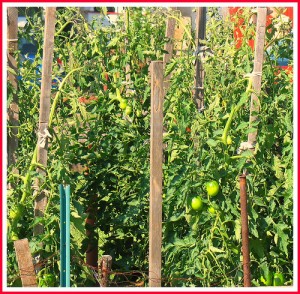 I'm busy, busy approaching green communities world-wide and offering my ebook as a great way to earn an income from their websites, but around this, I'm enjoying some fine R & R.
Here in New Zealand early summer is upon us.  Today as I was buying my veggies from Bev who runs the spray free veggie shop (not that she calls it this exact title, she just calls it 'Waitapu Gardens', but word gets around) I heard an elderly man announcing he had his first swim at Para Para beach (and that it was cold).  Yes indeed, in these parts people are shifting into a new, warmer season.  They're planting up their gardens, dipping their toes into less chilly waters and enjoying longer evenings.
I find it fascinating observing myself becoming more and more like my parents.  Tonight as we arrived home from yet another trip to the skate-park for my three year old son, I slipped away for some quiet time in my garden.  I never used to understand it when my father would spend a good hour out side in the evenings in his garden, hosing, or weeding or just standing there in deep contemplation.  But at thirty four, the day has come.  Tonight I spent the most blissful half hour of my day staking tomatoes.  I never thought I would say it but it was deeply satisfying.  I looked over my work post-stake just as a proud captain would survey his decks after a good scrubbing.  Only in this case, I did all the work.
I've never staked tomatoes before.  I usually just leave them to tangle merrily into a mysterious, tomato producing wilderness.  Actually, I've tended to avoid straight lines in general most of my life.  It's not that straight edges or lines would irk me, it's more that they just didn't register in the Charlotte radar.  I've always been a more organic, fluid, let it take it's course, no need to measure those ingredients, sort of a girl.  It all began when my grandmother said 'the true artist never uses a ruler in her work' and flowed merrily through the rest of my life from that point on.
Gosh, I wonder what's happening to me?  It's probably only the tomatoes …
Today's rating: 10/10
365 Days of Fun and Chillaxation (as I raise my gorgeous son and grow my good news website to a subscription base of 100,000 people).  The Low Down on this Blog.
Check out yesterday's blog.
Check out my NEW ebook 'Ten Ways to Have Fun and Chillax As You Live Your Green Dreams' – how to mix positive thinking with going green to achieve fantastic results (for yourself and the planet).
GD Star Rating
loading...
GD Star Rating
loading...
Tags: Gardening