Home » Blog
Consider Giving the Gift of Time This Christmas/Solstice – 10 Ideas
Submitted by Charlotte on December 19, 2010 – 3:13 pm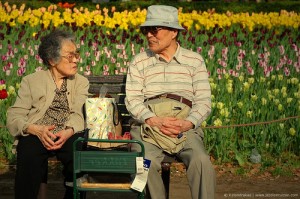 Every year we talk about it in my family: "this year let's give the presents a miss and actually make something for each other".  Or – "this year let's each spend five dollars and draw our presents out of a hat!". We very rarely actually get round to carrying out the plans and fall back into auto mode: Christmas shopping for more stuff.
However, this year things are getting serious – my sister is excited at the thought of a night out with her man while I fuss over her daughter for the evening.  Sounds good to me, it's a win-win actually – I love my niece and look forward to bonding with her while they kick their heels up else-where.
I thought I'd suggest a few more 'Gift of Time' ideas because these sorts of gifts can actually bring people closer together and feel quite amazing.
Ten 'Gift of Time' Ideas
1.  Cook a three course, organic meal and serve it up with love – you could offer this to a couple, or to one person.  Be sure to add your own special flare and to deeply honour the people or person your serving so that they feel momentously fussed over.
2. Shoulder massage – give one whole gorgeous hour of shoulder lov'n!
3.  Foot massage – half an hour of gentle rubbing per foot (or if you're experienced you can work some points) – with lavender wax – preferably in the evening when they can slope off to bed and fall instantly into a relaxed and blissful slumber.
4.  Give a one hour lesson in something you're experienced at and passionate about – for example: guitar, fixing cars, gardening, baking, applying make-up, fixing fences, cooking gluten free – the list is endless.  Ensure that you leave your student with at least one usable skill after the lesson.
5.  Offer to lovingly listen to someone talking about anything they like for one whole hour!  Now this may seem a little strange but how often do we get the chance to talk to our loved ones, uninterrupted about anything at all we like for an entire hour?  It can be a very loving experience – leaving the talker feeling 'heard' and the listener feeling good about taking the time to offer such a simple, yet profound gift.
6.  Take someone for a drive, to a beautiful place and host a delicious picnic for them.  The entire experience can be a surprise, or pre-planned, and all the little details must be seen to – such as bringing along their favorite foods, remembering napkins, and providing their most revered and scrumptious desert!
7.  Take your person on a special date designed just for them – it could be totally free and involve a day outdoors at the beach, or it could be a day of lushness at a spa and a cafe.
8.  Offer to give a specific area of your loved one's house the full-clean-treatment.  Pledge an entire morning scrubbing the bathroom until it gleams (and can be ignored for another year!), offer to finally tidy up the garage, or clean out the kitchen cupboards and organise them.
9.  Take your loved one (s) on an indoor holiday – invite them to Morocco – at your house!  Do the research and decorate a room of your house in the theme of a country including posters, smells, music and food.  Make it as authentic as possible and spend the night there!
10.  Offer parents with young children the chance to take some time out while you spend some special time with their kids – and genuinely make it special time.  Give great one on one attention (or one on two, three or four!), prepare for the event with game ideas, food, and entertainment, and devote yourself to giving those kids or that kid the best possible experience possible while their parents run a away and have a good time.  The happier (and perhaps calmer) the children are upon the parents return, the better Mum and Dad will feel.
You can present your 'Gifts' to people on special hand-made certificates, cards, or simply with special heart-felt words.  The only rule here is to MAKE SURE you follow these ideas through and carry out your promise.  Also ensure that they're special experiences for all involved (including yourself).   Some of these gifts can actually be performed on Christmas Day.  But it's also good to officially book in the time to carry out the tasks and write it down in the diary or calender as soon as you're able (I suggest booking it in on Christmas Day, it'll be worth the time you take to do it).  As I said – once you commit – make it happen.  Make a promise to yourself to see it through in honour of your loved ones and watch your relationships with these people deepen.
Charlotte Squire
www.happyzine.co.nz
GD Star Rating
loading...
GD Star Rating
loading...
Tags: time