Home » Uncategorized
365 Days of Fun and Chillaxation – Blog 243 – The Blessing of Rebecca Toon
Submitted by Charlotte on December 24, 2010 – 10:18 pm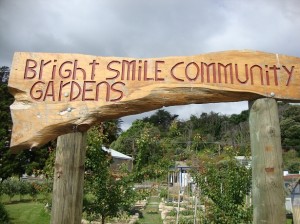 Tis the eve of that Christian celebration I've grown to know and love: Christmas!
And I would like to spend this blog appreciating one of our many gifted writers.  Her name's Rebecca Toon and she just sent me in a masterpiece of heart-felt, earnest, extremely well researched, deeply inspiring writing.  You have got to read her work to believe the depth and the detail that one positive news writer can weave into her work.
As do our amazing writers occasionally, tonight Rebecca has inspired me in my work as Editor of Happyzine.  Rebecca not only believes in the people she writes about in her '100 mile people harvest' series – she shares their lives …
"Of all the positive changes that have occurred in Thames though, the Bright Smile community garden has to be my favourite. It's built on an old mining site with raised adobe beds laid out in a geometrical pattern reminiscent of European palace courtyards. It's gorgeous. Along with veges and fruit trees, there is an onsite banana nursery with pineapple, guava, mountain papaya and a flock of doves weaving through it, lovingly looked after by neighbour Clinton and a group of green fingered locals."
And here she is again … can you see her in the back of this photo?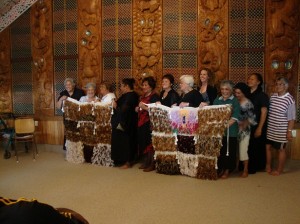 "After hours of being immersed in the meditative rhythm of weaving, our group completed 18 mini korowai with 600 feathers each which were sewn together to form 2 full sized korowai. In a very moving ceremony, these were gifted to my work and the local iwi at the Matai Whetu Marae. The more experienced weavers worked on full whānau korowai, which use 6000 feathers and reach to the ground taking months and even years to complete. Regardless of the size, every korowai is a work of aroha and devotion, revealing the whakapapa and personality of the weaver and what is important to them."
Rebecca is one of the people in my life that I count myself deeply privileged to know.  Tonight her words have touched me.
Today's rating: 9/10
365 Days of Fun and Chillaxation (as I raise my gorgeous son and grow my good news website to a subscription base of 100,000 people).  The Low Down on this Blog.
Check out yesterday's blog.
Check out my NEW ebook 'Ten Ways to Have Fun and Chillax As You Live Your Green Dreams' – how to mix positive thinking with going green to achieve fantastic results (for yourself and the planet).  Here's the video story of this life-changing, planet loving ebook.
GD Star Rating
loading...
GD Star Rating
loading...
Tags: appreciation, gratitude