Home » Uncategorized
365 Days of Fun and Chillaxation – Blog 251 – Entering the Realm of Farewell Spit
Submitted by Charlotte on January 1, 2011 – 6:34 pm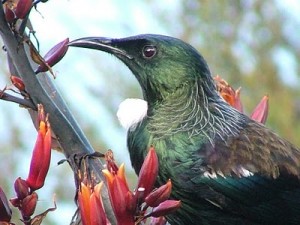 Here in Golden Bay the population has at least doubled and people are streaming in from all manner of distant lands.  Today I joined the tourists and traveled out to Farewell Spit with the family.  Have you been there? Farewell Spit is up the very top North West corner of the South Island, New Zealand.  And of course – it's stunning.  The spit itself reaches out around Golden Bay like a thin hand, protecting our waters.  It's oozing history and wild-life.
The drive out to Farewell Spit winds through native bush and alongside gorgeous (recently flooded) rivers and ocean.  The days here have turned blue skied again and the sun beats down, inviting swimming and very few clothes to be worn.
Farewell Spit has a long, deep Maori history that I can feel as easily as if the Pa was still there up on the hill over looking the ocean.  The beach is littered with empty sea shells and the wild-life is abundant, indicating Maori would have once had many food sources to choose from.
I had forgotten just how striking the landscape is out there.  The bush clad hills are craggy, a deep mysterious green set against blue sky.  Much of the land is wild and uninhabited. Tui swoop down upon us occasionally, either blessing us or warning us, depending on how you take it.
This was the landscape of my childhood, where my father took us to gather kai moana (sea food) and simply be in the dramatic glory of the untamable West Coast.  He once had his clothes ripped off in a rip-tide as he was out spearing for butter fish.  He clung onto strong kelp seaweed and managed to clamber back to shore infinitely more respectful of the ocean.
People travel to this part of Golden Bay in their thousands at this time of the year and I know why.  Where as in the winter it can be a damp, lonely place to reside, right now it's warm, golden and friendly.  I felt revived by those elements, needing very little from fellow humans to 'fill up' today.  It really is worth the effort to visit Farewell Spit.
Image: Tui by mars2earth.
Today's rating: 9/10
ps another thing I did today was join this 30 day 'Tude challenge.  You can join it too, for free, if you want …
365 Days of Fun and Chillaxation (as I raise my gorgeous son and grow my good news website to a subscription base of 100,000 people).  The Low Down on this Blog.
Check out yesterday's blog.
Check out my NEW ebook 'Ten Ways to Have Fun and Chillax As You Live Your Green Dreams' – how to mix positive thinking with going green to achieve fantastic results (for yourself and the planet).  Here's the video story of this life-changing, planet loving ebook.
GD Star Rating
loading...
GD Star Rating
loading...
365 Days of Fun and Chillaxation – Blog 251 - Entering the Realm of Farewell Spit

,
Tags: green