Home » Uncategorized
365 Days of Fun and Chillaxation – Blog 252 – Join Me in the Choose the 'Tude 30 Day Challenge
Submitted by Charlotte on January 2, 2011 – 8:58 pm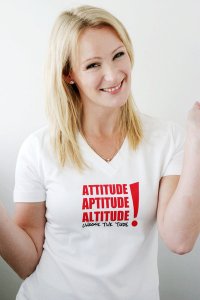 A lot can happen in thirty days.  Robyn Simpson – founder of Choose the 'Tude has launched a challenge – a thirty day challenge.  I'm along for the ride.  Here's the blurb:
"Welcome to the 30-Day 'Tude Challenge! If you've got a goal you'd like to achieve to get 2011 kicked off to a great start, join us for the complimentary 30-Day 'Tude Challenge! All you need to start is to choose the goal you want to work on and join this group. Each day I will post another 'Tude Tip (or maybe two) to help you move towards your goal. You need to choose to take action. Every member of group is encouraged to share their goals, insights, advice, thoughts and suggestions with other members. The more brains working on a solution, the better the solution will be. I'll be adding my 10 cents regularly to answer as many questions as possible. Normally I charge for this, but as a gift to all who wish to be inspired and be inspiring, I am offering this for free. Feel free to pass this on to others, the more people involved the better. Plus you never know who you will meet in this positive and motivating space! It doesn't matter if you join at the start or part way through – you will still get benefit from being part of the 30-Day 'Tude Challenge! See you inside! With Grati-Tude! Robyn"
I've decided to make the most of this opportunity and complete the Wild Energy green design challenge in fine style. Here's what I wrote:
"Hi everyone,
My name is Charlotte Squire, I'm the Editor of www.happyzine.co.nz – a good news website – and I'm aiming to change New Zealand's history by sparking the beginning of our passionate love affair with green design, thus rendering us world leaders in savvy, edgy green technology. My goal is to inspire 20 plus people to submit their proposals to Wild Energy – a green energy design competition we're running with the aim of preserving our wild rivers and highlighting the exciting sustainable, opportunities we face as a nation regarding power generation. The competition is running now and the last day for entry is 31st of January. We have some amazing judges and much of the work is already done, the key thing now is to promote Wild Energy nationwide to minimum 200,000 people over the next 30 days. I have a strategy including posters, social network sites, engaging local papers, email and networks."
If you have a  goal you'd really like to make a great start on over the next twenty eight days, people can join at any point.  Check out the facebook group here.
Today's rating: 9/10
365 Days of Fun and Chillaxation (as I raise my gorgeous son and grow my good news website to a subscription base of 100,000 people).  The Low Down on this Blog.
Check out yesterday's blog.
Check out my NEW ebook 'Ten Ways to Have Fun and Chillax As You Live Your Green Dreams' – how to mix positive thinking with going green to achieve fantastic results (for yourself and the planet).  Here's the video story of this life-changing, planet loving ebook.
GD Star Rating
loading...
GD Star Rating
loading...
365 Days of Fun and Chillaxation – Blog 252 - Join Me in the Choose the 'Tude 30 Day Challenge

,
Tags: green dreams