Home » Uncategorized
365 Days of Fun and Chillaxation – Blog 257 – I Encourage You to Head To Karamea and Experience Life as a Rongolian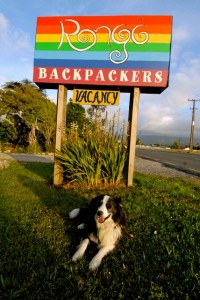 Check out the article I just posted up: The World is Your Canvas – Karamea's Rongo Backpackers Where Self-Sufficiency Meets Creativity.  It's about Paul Murry and his world in little 'ole Karamea – right at the top of the West Coast of New Zealand, well as far west as you can get before you hit the Heaphy Track and Golden Bay.  I've been to Rongo Backpackers and met Paul.  He has a passionate vision for his properties in Karamea which is steadily unfolding – including art and creativity, self-sufficiency and permaculture – to name a few aspects.  I encourage you to walk the Heaphy (which is another amazing experience) and then take some time out at Rongos in Karamea – this place is a little slice of permaculture paradise waiting to be discovered.  It's peaceful, it's real, it's sparking with creativity and a 'why-not' atmosphere and it's a safe place to just be you.  I loved reading this article.
Today's rating: 9/10
365 Days of Fun and Chillaxation (as I raise my gorgeous son and grow my good news website to a subscription base of 100,000 people).  The Low Down on this Blog.
Check out yesterday's blog.
Check out my NEW ebook 'Ten Ways to Have Fun and Chillax As You Live Your Green Dreams' – how to mix positive thinking with going green to achieve fantastic results (for yourself and the planet).  Here's the video story of this life-changing, planet loving ebook.
GD Star Rating
loading...
GD Star Rating
loading...
Tags: Permaculture