Home » Uncategorized
365 Days of Fun and Chillaxation – Blog 264 – Save the Honey Bee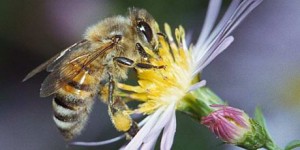 I started my life amongst the honey bees.  My father was an apiarist (amongst other things) and he initiated a way cool honey get-up, which is still running today, called Heaphy Honey.
He loved the bees and his bee-ish life, and would tend to the hives all over Golden Bay.  I was lugged around in a big white truck as a baby watching my father tend to the hives.  So it's natural to me that these days I get a little passionate about honey bees and their survival as a species, and then there's the fact that our whole eco-system depends on them …  yes … there is that little detail …
So here's a petition for you to sign if you love bees. I've signed it, you take a look:
"Quietly, globally, billions of bees are dying, threatening our crops and food. But a global ban of one group of pesticides could save bees from extinction.
Four European countries have begun banning these poisons, and some bee populations are recovering. But chemical companies are lobbying hard to keep all killer pesticides on the market. A global outcry now for a ban in the US and EU, where debate is raging, could provoke a total ban and a ripple effect around the world.
Let's build a giant global buzz calling for these dangerous chemicals to be outlawed in the US and EU until and unless they are proved to be safe. Sign the petition to save bees and our crops and send this to everyone"
Sign the petition now – it takes two minutes.
Today's rating: 9/10
365 Days of Fun and Chillaxation (as I raise my gorgeous son and grow my good news website to a subscription base of 100,000 people).  The Low Down on this Blog.
Check out yesterday's blog.
Check out my NEW ebook 'Ten Ways to Have Fun and Chillax As You Live Your Green Dreams' – how to mix positive thinking with going green to achieve fantastic results (for yourself and the planet).  Here's the video story of this life-changing, planet loving ebook.
GD Star Rating
loading...
GD Star Rating
loading...
Tags: honey bee, honey bees