Home » Wild Energy
Micro-Hydro Kinetic Turbine – 2nd Entry into the Wild Energy Challenge – Please Cast Your Vote
This is an entry into the Adult section of Wild Energy.  If you like this entry please give it a rating out of five stars (see the bottom of this page).
Micro-Hydro Kinetic Turbine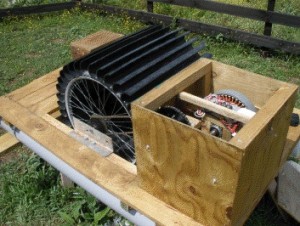 In today's society we are very dependent on fossil fuels for easy energy at an affordable price but this is not sustainable.
As the developing economies and the world's population continue to grow we are faced with threats of future problems such as peak oil, shortage of fresh food and water, and Co2 Emissions on the planet.
I am a strong believer of self-sufficient small communities and family households throughout the world and, as a student it is my long-term goal to make this a reality.
I am entering this "Micro -Hydro Kinetic Turbine" into the competition it is designed to harness energy from the flow of the water from a stream or river leaving no damaging consequences on the ecology of the streams and rivers in New Zealand. It is built from mostly recycled materials such as a bicycle, washing machine, PVC piping and timber framing.
The past is the future
I am inspired by our ancestor's invention of the water wheel. It was widely used in the early eighteen hundreds and also farmers used it to process grain. I have taken this utilized wheel and adapted it to suit modern society. Doing this can provide opportunities for future generations.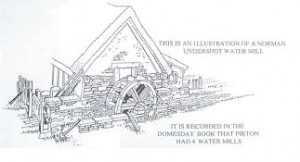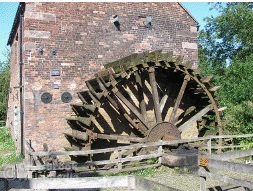 Purposes
Since I have built this Turbine from recycled materials that I have collected from recycling centers. I have found it to be cheap to build and had no difficulty finding parts.
My project can be used for many purposes for example:
1) Help supply electricity to your household if you have a waterway on your property
2) Be up scaled to industrial use and can power thousands of households using the vast energy of rivers through out New Zealand.
3) Can be used along coastal lines for wave/tidal energy potential.
The unique feature of this turbine is that you can have multiple turbines along the waterway and leaving no damage and can provide interest to tourists and other countries.
How does it work?

The water wheel is fitted on to the raft, the raft floats on top of the water and the flow of the water pushes the water wheel, which then drives the alternator that will produce electricity.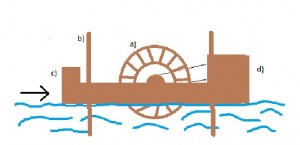 a) Water wheel that spins with the flow of the water, the wheel is made from two bicycle wheels and has half cut plastic piping (from old carpet rolls) that acts as scoops.
b) Four long rods that keep the raft in place so the raft can float up and down with the tide of the waterway.
c) Weight box design to keep the balance of the raft
Alternator box it composes of an (3 phase star) alternator from a fisher n paykel washing machine and a full bridge rectifier.
What electricity does it produce?
The prototype that I have designed and built produces between 70 – 80 watts DC with the water wheel spinning at a speed of 30 – 50 rpm.
If you to increase the ratio of my design to 1:50 and to have 10 turbines of my design running along the (Mokihinui River) river it will produce a power of 35000 – 40000 watts in DC.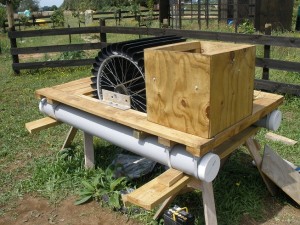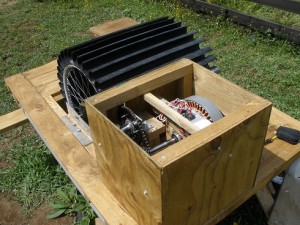 Entry submitted by Bevan Pike
GD Star Rating
loading...
GD Star Rating
loading...
Micro-Hydro Kinetic Turbine – 2nd Entry into the Wild Energy Challenge – Please Cast Your Vote

,
Tags: green energy design, green enery