Home » Uncategorized
365 Days of Fun and Chillaxation – Blog 274 – Tessa Whiteman's Shoes
Submitted by Charlotte on January 25, 2011 – 9:47 pm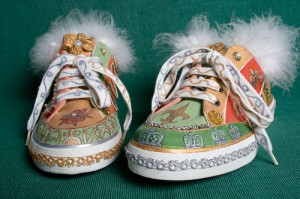 Today, of all the things a girl could find herself doing, I found myself sitting in artist Tess Whiteman's living room admiring her painted shoe collection.  Yes, yes, all in a day's work for this good-news Editor.
Tess called me up a few weeks ago to invite me to come and have a look at her painted shoe collection.  Intrigued, I accepted my invitation and turned up today to take a look and find out what would inspire a person to paint shoes of all things.
Tess, who lives in Rangihaeata, Golden Bay, is an accomplished artist – a painter – who also happens to have a passion for bringing fun, colour, and personality to the formerly humble and retreating into the distant shadows, shoe.  After experiencing her own rather traumatic start to life via club foot as a child, she's turned those feelings inside out – by transforming the average shoe into pure celebration of the foot.
I loved her passion for her creations.  The quietly spoken Tess told me she get's completely mesmerized by the process of painting her shoes.  She said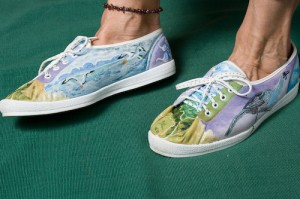 the hours just slip by and she only stops to give her eyes a break.  Art work lines every wall of Tess and her husband Chris's home (they're madly in love, let it be noted) from dramatic, vibrant colour to more detailed and true to life landscapes.  These two appear to live and breath creativity.
The thing I noticed about Tess was her total 'in the moment' ness.  I always admire people who can be so totally engaged and present.  I think that this degree of presence leads to success in life.  Tess asked me if she thought people would like her shoes and I assured her that they would.  Her delight and enthusiasm for her painted shoes is inspiring and the shoes are lovingly created, one off, art-works.
Tess paints shoes on commission and upon her shoes you will find birds, shells, plants, spirals, feathers, seaweed … well anything actually … it's up to the individual.  She tells me she's open to taking on more personally commissioned shoe designs, so if you're in need of a little new year's change, from the feet up, check out her site and get in touch.
Today's rating: 9/10
365 Days of Fun and Chillaxation (as I raise my gorgeous son and grow my good news website to a subscription base of 100,000 people).  The Low Down on this Blog.
Check out yesterday's blog.
Check out my NEW ebook 'Ten Ways to Have Fun and Chillax As You Live Your Green Dreams' – how to mix positive thinking with going green to achieve fantastic results (for yourself and the planet).  Here's the video story of this life-changing, planet loving ebook.
GD Star Rating
loading...
GD Star Rating
loading...
365 Days of Fun and Chillaxation – Blog 274 - Tessa Whiteman's Shoes

,