Home » Uncategorized
365 Days of Fun and Chillaxation – Blog 277 – Bliss in a Cherry Tomato
Submitted by Charlotte on January 28, 2011 – 9:00 pm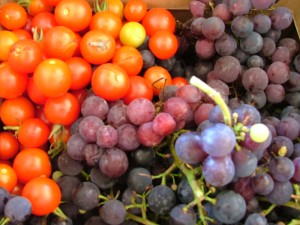 I had a joyous day.  Two radio interviews about Wild Energy.  Many great conversations.  Fantastic news recieved and uploaded onto Happyzine.  But the grandest moment of them all was this:
Sitting on a wooden sty, beneath the hot sunshine, beside a lush, green paddock, all alone, eating a garlic pita bread, filled with mayonnaise and salmon, with freshly picked cherry tomatoes on the side.  Mmmm.  I was in divine, relaxing, delicious, simple-food heaven.  Food heaven.  Moment heaven.  Lost in the sensations of taste.  Sweet cherry bursting with juice and tang.  Pita bread melting.  Nothing but the sound of cicadas in full summer symphony to accompany my picnic.
Bliss.
I wish it upon you all.
Today's rating: 10/10
365 Days of Fun and Chillaxation (as I raise my gorgeous son and grow my good news website to a subscription base of 100,000 people).  The Low Down on this Blog.
Check out yesterday's blog.
Check out my NEW ebook 'Ten Ways to Have Fun and Chillax As You Live Your Green Dreams' – how to mix positive thinking with going green to achieve fantastic results (for yourself and the planet).  Here's the video story of this life-changing, planet loving ebook.
GD Star Rating
loading...
GD Star Rating
loading...
365 Days of Fun and Chillaxation – Blog 277 - Bliss in a Cherry Tomato

,