Home » Wild Energy
New type of Current, Tidal, Wind, Wave and Cyclone Energy Converter – 9th Entry into the Wild Energy Challenge – Please Cast Your Vote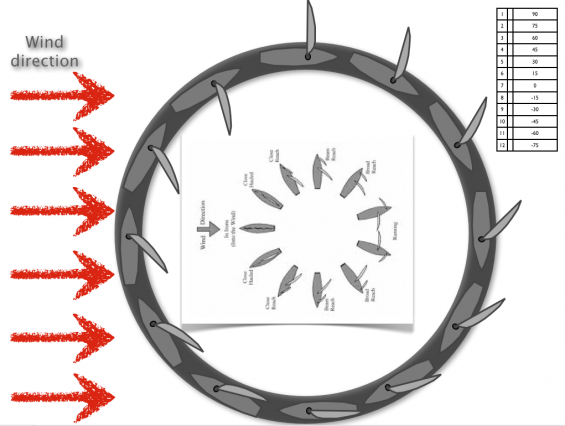 This is an entry into the Adult section of Wild Energy.  If you like this entry please give it a rating out of five stars (see the bottom of this page).
Entry submitted by Miroslav Novak
I invented and filled patent application for new type of Current, Tidal, Wind, Wave and Cyclone Energy Converter.
This converter uses great ability of "sailing ship" to  catch wind energy about 270°of 360°of blow direction.
Today's turbines (Francis, Kaplan, Pelton, Helical, Gorlov,…) are able to catch only cca 180° of direction.
Original new types of blades of this vertical turbine are working automatically and autonomically, according to current speed of water and according to speed of rotation of vertical turbine.
The blades of turbine set their position without any other construction and propulsion equipment. They use only energy of water to set up.
The Sailing turbine is able to produce:
4 kW of energy with 2,5 m diameter, 1 m hight and 2 m/s of water speed (P=1/2 *ro * A * v3) by at least 40% of efficiency (50-60% efficiency is average)
Description of autonomically set-up blades, energy conversion, construction and the ability so store TWs of energy are not attached, according to my intellectual property.
I do not infringe on anyone's copyright or intellectual property with my design, and by entering the competition, I agree that my work is my own.
By sending you my entry I agree that I am allowing you to freely publish my material online
• Feasibility – How practical is the idea? It can be built from 500 W to TWs of energy generator and storage
• Sustainability – How will the idea impact upon the planet? Generate cheap energy, save coasts from big waves, save mainland from Cyclones
• Creativity – How lateral thinking, and 'out-side the square' has the designer been with the entry? My entry offers 3 main extras: Bearing, Sailing blades and Energy Storage.
• Imagination – Does the entry reuse old ideas in a new way? Everything in my entry are old ideas connected to a new solution.
• Design – Properly designed objects fit their context so well that they are easy to use and beneficial to the user. Yes, from Home consumption, to big Power Plants, from small rivers to ocean currents, from home wind turbines to Cyclone barriers.
7. The Wild Energy categories will be: Adult. I enter all concepts as one entry
Ing. Miroslav Novak
mail: macmiro@me.com
Slovak Republic
GD Star Rating
loading...
GD Star Rating
loading...
New type of Current, Tidal, Wind, Wave and Cyclone Energy Converter – 9th Entry into the Wild Energy Challenge – Please Cast Your Vote

,
Tags: green energy design