Home » Uncategorized
365 Days of Fun and Chillaxation – 298 – New York to Harness Renewable Energy of Sewage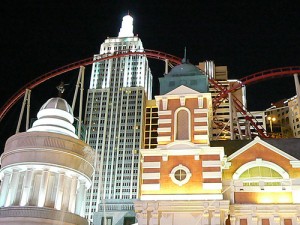 Now this is the kind of news I like to read: "New York City's sewage treatment plants will now be in the business of harvesting and selling renewable energy. Heating fuel will be extracted from sludge, butanol (a gasoline alternative) extracted from the algae that grows in wastewater and, of course, methane gas will be captured from sewage plants' digesters" (EcoGeek). I know that New York are on a mission to become the world's most sustainable city.  Awesome.  Just think, we could be doing the same here in New Zealand.  In fact I know plans have been in the pipe line ('scuse the pun) for this to happen in Blenheim, and perhaps Christchurch (I'm thinking Vikki Buck) for years.   I'll post up any news I hear about this happening here, or actually ANYWHERE as this sort of smart thinking about generating energy is the way of the future!
Today's rating: 9/10
365 Days of Fun and Chillaxation (as I raise my gorgeous son and grow my good news website to a subscription base of 100,000 people).  The Low Down on this Blog.
Check out my NEW ebook 'Ten Ways to Have Fun and Chillax As You Live Your Green Dreams' – how to mix positive thinking with going green to achieve fantastic results (for yourself and the planet).  Here's the video story of this life-changing, planet loving ebook.  NEW! 'Like' the facebook page '30 Days of Fun (and Chillaxed) Green Change – April 2011′ and reach your dream, green goal once and for all this April.
GD Star Rating
loading...
GD Star Rating
loading...
Tags: green energy design, new york