Home » Uncategorized
365 Days of Fun and Chillaxation – 300 – The Ancient Craft of Rock Work Lives On in Golden Bay, New Zealand
Submitted by Charlotte on February 21, 2011 – 7:37 pm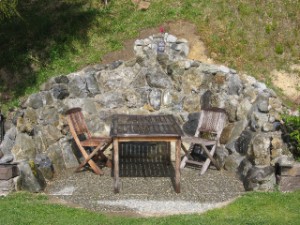 Rock work.  You wouldn't think there much to it, putting up a rock wall.  Anyone can do it right? Well, yeah, but not one that stays there for one hundred years.  It's one of those 'ancient crafts' that you hear of.  it's up there with herbalism, or midwifery.  It can be passed down from rock worker to rock worker, and there are many, many subtle tricks to pass on.
I saw the ancient walls dividing up the moors of England when I was there a decade ago.  I marveled at the stories of those walls, thinking of the people who had gathered each rock and hauled them out of the fields to the sides.  It must have been hard, sweaty, blistering work without a trailer and a four wheel drive to help things along.
Today I spent a little time with surely the most passionate rock worker on the Top of the South Island of New Zealand – Theron Burgess (who also happens to have written for Happyzine on occasion about his early forays into the world of man-parenting).  Theron takes his rock work very seriously.  In fact it's more along the lines of 'rock art' for Theron.  His rocks all fit around each other, because he hand picks each special rock and gives it the perfect place.  He uses very little concrete, as they hold themselves up pretty good already.  He gets to know his rocks, seeing unique shape, colours and texture of each one.
Theron told me today that a good rock worker ensures that each rock touches another at four different points, so that it stays put – wedged in between it's rock friends.  He said that as be builds, he comes in from behind the wall, so that the flatter side of each rock can point outwards creating the smoother surface of the rock wall.
As we strolled along admiring his latest freshly completed wall he told me he never knows quite how his walls will turn out.
"The rocks sort of choose themselves, and each one's so different, it's really a very organic process."
He spends hours choosing smaller stones to fill in the gaps between the rocks, each one helping the others settle in more securely.  I remember him telling me once that he's always surprised to find the "perfect rock" just when he needs it.   Today he told me that when he was learning his craft from more experienced rock workers in the States, the rocks had to fit perfectly enough together for the structures they were building to support horses.  Yes actual horses.  Which would walk across them.  Without concrete.  Mamamia.  The responsibility!  The skill.
This evening I stood and enjoyed his completed works of art.  The stone walls he's constructed have totally transformed the lawn they surround.  The area looks some-how more loved, more highly regarded.  I'm sure it must be due to the level of care Theron took to construct that work-of-art-wall.
Here's to taking our ancient crafts seriously and to the passing on of information from generation to generation.  Nothing can ever replace the value of good quality craft work.
If you ever want to get in touch with Theron, here's his email address: theronburgess@gmail.com
Today's rating: 9/10
365 Days of Fun and Chillaxation (as I raise my gorgeous son and grow my good news website to a subscription base of 100,000 people).  The Low Down on this Blog.
Check out my NEW ebook 'Ten Ways to Have Fun and Chillax As You Live Your Green Dreams' – how to mix positive thinking with going green to achieve fantastic results (for yourself and the planet).  Here's the video story of this life-changing, planet loving ebook.  NEW! 'Like' the facebook page '30 Days of Fun (and Chillaxed) Green Change – April 2011′ and reach your dream, green goal once and for all this April.
GD Star Rating
loading...
GD Star Rating
loading...
Tags: ancient craft, art, rocks